A power rack is essential equipment for persons seeking to maintain physical health while at the same time ensure their safety. Power racks are different though they seek to meet similar objectives.
In this, the market is offering attachments for power racks. These attachments aim at making your training sessions a lot easier but maintaining the effectiveness of your workout routine.
In addition, the upgrade the level of safety so you have no risks when you use them properly. To top this up, these attachments allow for the inclusion of more exercises. Power rack attachments are therefore an asset to own. The following are some of the best Attachments for Power Rack in the market to help meet the above objectives.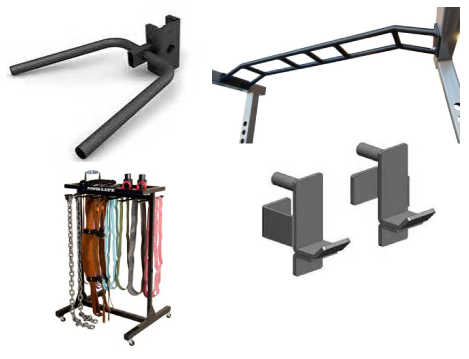 Extra spot pins
There are two main reasons as to why extra spot pins are a must have. They enhance the level of safety while at the same time they allow individuals take on different levels of exercises. If you are trying to enhance your pin pulls and/or pin presses, these attachments are ideal. This makes it easier to have a quicker setup for an individual seeking to lift.
Depending on the level of your training, different individuals will adjust these pins differently. Others will do it while still exercising while others will stop to take care of the position first. They are designed to be durable thus long lasting. In reference to safety, the extra pins fit into the holes to make the cage extra firm.
Dip attachments
This is a bar that is v-shaped and it aims at working on your chest, as well as the upper bodice. This attachment is built to be sturdy to ensure that it holds the pressure.
It is usually powder coated to ensure a firm grip as well as minimizes the risk of scratches and damages to the equipment. The main objective of dip attachments is to help you grow bigger and stronger by doing the dips.
Chin bar
A chin bar on a power rack helps individuals exercise by pulling up their body with their hands to the top of the power rack. Thereby exercising the limb muscles. They are placed at the top of the power rack and are very secure once in place. It allows individuals perform an extra workout routine without going out to purchase another piece of equipment all together.
The added advantage you gain from these set of attachments is that they are safe and pretty strong to hold right about anyone during the workout. They also seek to promote comfort. You may opt to use side mounted chin bars, straight bar fat bar, monkey bar chin bar etc.
However, whichever you settle for, you can be sure you are using the right attachment. They come in different shapes and designs to suit the different power rack designs.
Chain storage
Chain storage just as the name suggests seeks to store chains. Rather than leave them lying around, which increases the risk of accidents, this attachment is an important piece for your power rack.
Keep in mind that chain storage is specific to people who use chains in their gyms. It ensures the chains are organized too. These simply act as protective devices rather than exercise enhancement attachments.
J- hooks
These attachments despite their size are very important with a power rack. They are designed to ensure that you are safe yet they are suitable to ensure a firm grip on the power rack's bar. An added advantage is that they are flexible, durable and very sturdy.
To ensure your safety, they are designed to go all round the rack. In an effort to make it durable, they come with UHMW coating with ensures that it does not scratch easily thus slowing down wear and tear. This leaves them functional as well as durable in the long-term.
Power rack attachments are many but the above are essential for all individuals seeking to use a power rack. They provide functional objectives and will ensure your safety. The key objective of using a power rack is the provision of several workout routines while at the same time ensuring safety. These attachments are keen to achieve just that.