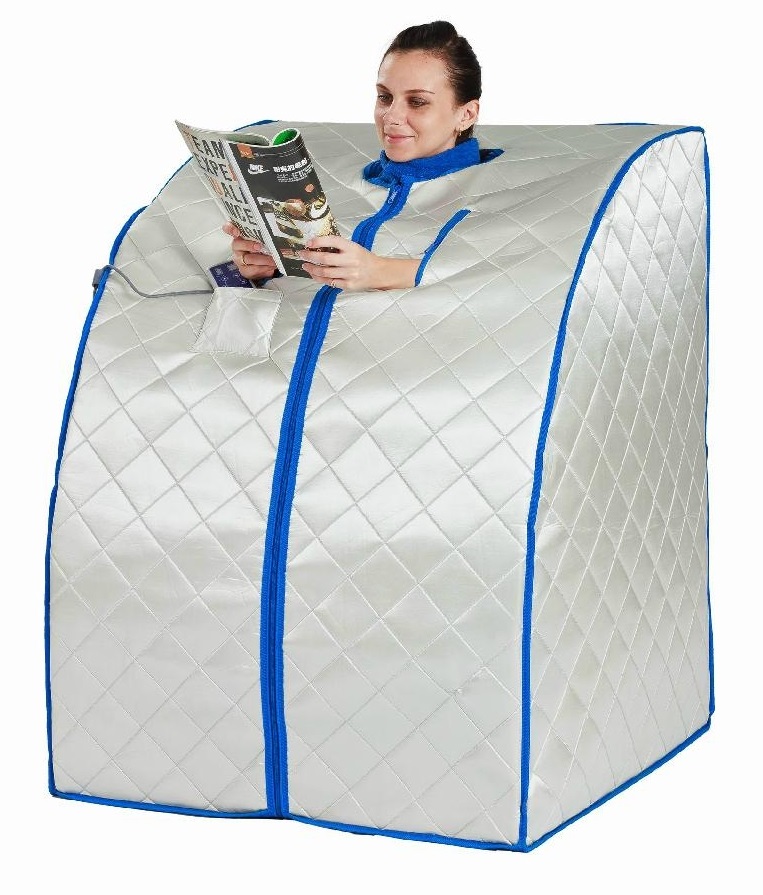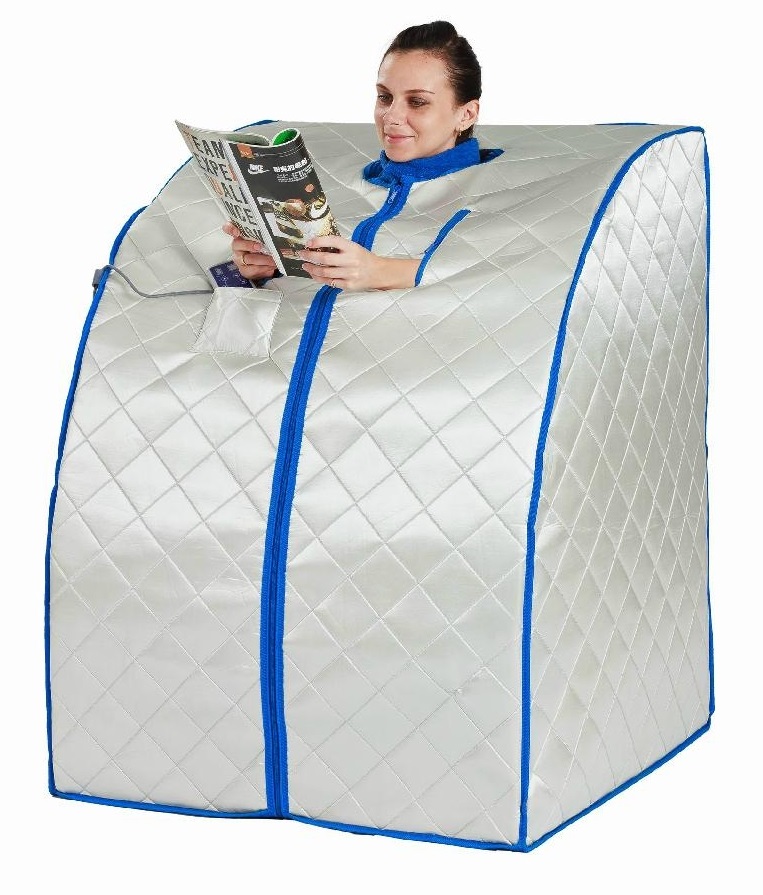 Best Portable Sauna will help you to lose weight, detoxify your body, reduce stress levels, enhance blood flow, aid muscle/joint pains, improve metabolism and cardiovascular system as well as beautify your skin.
These units are very compact, portable and inexpensive as compared to the Conventional Sauna units, hence, an ideal choice for frequent travelers. They can be used in any compact spaces or homes and are deliberately designed to save space.
Following are the Portable Sauna Reviews that will hand out thorough information regarding their features and type of design.
Top 5 Best Portable Saunas 2021 on the Market
In-depth 5 Best Portable Sauna Reviews:
Exclusively designed with high-quality materials, the Durherm Portable Steam Sauna is very inexpensive as compared to other products and comes with expedient features.
It is extremely compact in size with 28" x 33" x 43"dimension, hence, saving lot of space and making it ideal to use in home or any other limited spaces. For utmost safety of the user, the steam generator and the bathtub have been separately designed.
Aesthetically designed, the Durherm Steam Sauna features a gray-colored tent having pink outline to the zippers as well as edges. It comes with an 800W Steam Generator that utilizes steam having around 45 °C(113 °F) temperature and Timer that can be programed up to maximum 60 minutes.
Entire equipment is very easy to set up and takes just few minutes. For added beauty benefits, users can add essential oils, fresh flowers, so on.
Pros:
Comes with separate steam generator and bathtub design for maximum safety
Is extremely affordable
Has very easy to setup design
Cons:
The Portable Far Infrared Sauna is suitable for an amazing detox session and helps in weight loss. Integrated with high-tech carbon fiber heating element, it is ultra-thin and super-conductive in nature making the unit heat up quickly in no time. Due to higher amount of heat efficiency of this unit, users will be quickly sweating and this will activate and boost up blood circulation.
With open sections for hands and head, you can easily watch TV, read books, etc. The main feature that differentiates the FIR Sauna from Conventional Sauna is the FIR heating panels with additional negative ion for special detox and 97% energy emission.
It has intelligent temperature control unit that is preset with different levels of heating and comes with a handheld remote control to set time and heating level.
Pros:
Far Infrared (FIR) Sauna with 97% FIR material energy emission
Comes with a foldable chair, heating foot pad, floor pad with foam padding
Integrated with high-quality carbon fiber heating element
Cons:
Zippers might seem of poor quality
Unit might be too small for some people
Designed to have fully insulated frame, the Radiant Saunas offer this Rejuvenator Portable Sauna to efficiently help you with losing weight, enhancing skin tone, aiding joint aches, improving blood circulation, strengthening immunity level, soothing stress or tiredness and boosting up your energy levels.
This Sauna is extremely lightweight in nature to make its portability much easier. It has been pre-programed with 5 temperature options and has inbuilt thermostat; 150 °F is the maximum temperature level.
Incorporated with inbuilt Automatic shut-off feature, this Sauna ensures maximum safety of the user. Made from reflective polyester on the inside, the Rejuvenator Sauna has triple-layered Satin Polyester material on the outside which looks pretty elegant. This material has been reinforced with cotton insulation for high durability and better resistance against moisture.
The entire unit has been lock-stitched to provide topnotch panel strength. 3 Carbon fiber infrared heater panels feature low EMF and superior energy efficiency, making it perfect to use for any relaxation activities.
Pros:
Comes with a portable chair and pre-attached Beech hardwood dowel frame
Backed with 1 year warranty
Foldable design; Comfy neck-collar with double-lining
Comes with handheld controller having 6 automatic timer selections
Cons:
Might not heat up to 150 degree temperature as claimed
Chair included might feel too tiny for some people
With extremely spacious design, the Portable Steam Sauna is very comfortable and easy to use. It measures 29" width x 27.5' depth x 38" height, which is spacious enough for even tall users.
The product comes all-included with an 800W Steam Generator with 1.8L capacity of water. The setup of this Steam Sauna is extremely easy and takes just few minutes for installation. As a safety feature, the Sauna automatically shuts off when it senses low water level. There are 10 levels of temperature provided for you to set.
The foldable design of the Steam Sauna makes its portability much easier and quicker; can be stored away when not in use. Therapeutic Sauna helps you in weight loss, removing toxins, aids muscle aches, reduces stress, boosts up energy level and aids extreme leucorrhoea.
Huge zipper in the center allows easy entrance and small zippers at each side make it easy to read any magazines/books during the treatment.
Pros:
Foldable design makes it greatly portable
Spacious design
Auto-shut off safety feature
Cons:
Might take too long to heat up
Bellavie offers this Pop-up Foldable design of Steam Sauna that is very easy to carry around anywhere you wish and simple to set up.
Fairly affordable, it is offered with some great features like a portable chair, remote control and space saving design; making it ideal for losing weight and use at home or any other space.
Made from first-class materials, this Steam Sauna is waterproof, doesn't produce odor and is anti-bacterial/ anti-mildew.
Zipper at the middle allows for easy entrance and two zippers at each side allow you to read any book/journals during the treatment. The product comes included with a high-quality Steamer with 2L of water capacity and timer. It comes with a massage foot roller made from wood for pressuring active points on your foot that eventually results in improved blood circulation in your body.
Pros:
Comes with portable chair, massage foot roller, remote control, carry bag for tent
1-9 levels of temperature with timer settings for every 10 minutes
Made from high-quality fabric material and space-saving design
Cons:
Chair might feel uncomfortable for some people
The steamer might seem of poor design
What are the Benefits of using Portable Sauna? Do it really work?
Compact Size
Portable Saunas are very compact in size as compared to the Standard Sauna. Hence, you can carry them around anywhere you wish and use even in limited spaces. Some of them also come with a carrying case and foldable design to save space and store away whenever not in use. Such type of Portable Sauna is best for people who are travelling most of the time.
Detox and Weight loss
Sweating causes your body to get rid of the unwanted toxins that usually needs great amount of exercising or running. Portable Sauna can help you to release these toxins by producing ample amount of heat needed for you to break into sweat. Hence, you will have a great detox and weight loss treatment without having to even move from your position.
Other health benefits
Sauna therapy aids in many other health benefits like it activates blood circulation in your body. Due to this, the metabolism process is improved, immunity system is strengthened and any sort of mild muscle or joint aches are relieved. Also, daily dose of Sauna treatment will reduce your stress levels, making you relaxed and fresh.
Beauty benefits
Sauna helps to release several necessary compounds from the scalp that helps in moisturizing your hair and keeping ithealthier.Due to the release of the undesirable toxins, your skin tone enhances and looks impeccable.
Smart Design
Generally all the Portable Saunas are designed with an open section to take your head out. This will prevent your brain from high temperature generated in the Sauna, which might feel uncomfortable or cause further illness. Some of them also have zippers on two sides to take your both hands out, allowing you to read any books or weeklies.
Price
As compared to the Standard Sauna units, the Portable Sauna is generally inexpensive, portable and more reliable.
Energy consumption
Portable Saunas have less energy consumption as compared to the traditional Saunas.
Different Types of Portable Sauna
Broadly, the Portable Sauna can be divided into two main types- Steam Sauna and Infrared Sauna.
Portable Steam Sauna
Portable Steam Saunas are generally provided with a Steam Generator unit and utilizes this heated steam to elevate the temperature within the Sauna unit. This raised temperature causes your body to heat up, eventually resulting in sweating. Steam Sauna is known to generate high temperature as compared to the Infrared ones. But, itmight take longer time to heat up than the Infrared Saunas.
>>> Check-in the best spa in Da Nang
Portable Infrared Sauna
Unlike in Steam Sauna, the Infrared Sauna emits infrared light in wave lengths that is directly absorbed by the body and does not cause any effect on the surrounding air. Infrared Saunas generally heat up very quickly as compared to the Steam Saunas. These are integrated with heating panels, most likely made from carbon fiber.
Far-Infrared (FIR) Sauna:
Most of the Portable Infrared Sauna is equipped with Far-infrared techniques. The infrared light with long wavelength is totally undetectable to the human eye. And such of type of light is used in the FIR Saunas. This technique tends to generate more heat as compared to Near-infrared Sauna.
Near-infrared Sauna:
Infrared light with short-wavelength suggests the 'Near-infrared' and is close to the visible light spectrum. Near-infrared Saunas do not get as hot as the FIR Saunas and hence are not much used.
How to choose the Best Portable Sauna?
Ease of assembly
Main purpose of buying the Portable Saunas is for their reliable, convenient and simple design. This design is expected to be very quick and easy to set up and all the parts should easily assemble into place without taking much of your time. So makes sure to look for a unit that has simple assembly.
Dimensions
This aspect is highly essential while buying a Portable Sauna unit. Make sure the dimensions are spacious enough and are in accordance with your body shape and size to avoid any sort of suffocation.
Manufacturer's warranty
Portable Sauna that is backed with a certain period of Manufacturer's warranty ensures its build quality and working efficiency. Make sure to look for a reliable design that offers Warranty period so that you can replace it or get it repaired, if any issues occur.
Maximum Temperature
To experience a beneficial Sauna treatment, it is very essential for the Sauna unit to reach the optimum desired temperature level. Most of the units available can reach up to 150 °F, which is amply hot enough for efficient detoxification and weight loss.
Type of Design
Seated design of the Portable Sauna is much more spacious and comfortable as compared to the Blanket styles of Saunas. People with claustrophobic issues, might find the heating blankets undesirable and inconvenient to use.
Accessories
Bonus Accessories and features provided with the Portable Sauna also play equally important role, just like its design. The heating foot pads, foldable chair, handheld remote control for convenient use, zippers for taking your hands out, etc. are some of the important features to look for in a Portable Sauna unit.
Price
Make sure whether the features provided are in accordance with the price tag of the Portable Sauna. There are many products out there that are fairly cheap but provide good features and are of high durability. As per your budget, you can pick any one that best suits all your needs.
How to use Portable Sauna?
Portable Sauna has very easy-to-setup design. Following 2 videos will guide you through the installation process of both a Steam Sauna as well as an Infrared Sauna.
Which Portable Sauna should I buy?
All of the above mentioned products are Top 5 Best Portable Saunas for 2018. Considering the price, power-packed features and exceptional build quality, the Radiant Saunas Rejuvenator Portable Sauna has to be the Best one amongst all.
The fully cotton insulated frame, reflective polyester-made interiors, triple-layer of Satin Polyester-made exteriors, Auto-shut off feature, 1 year warranty period, accessories like foldable chair, remote control and high-quality carbon fiber heating panels are the features that makes this Sauna unit stand out from all the other mentioned ones.