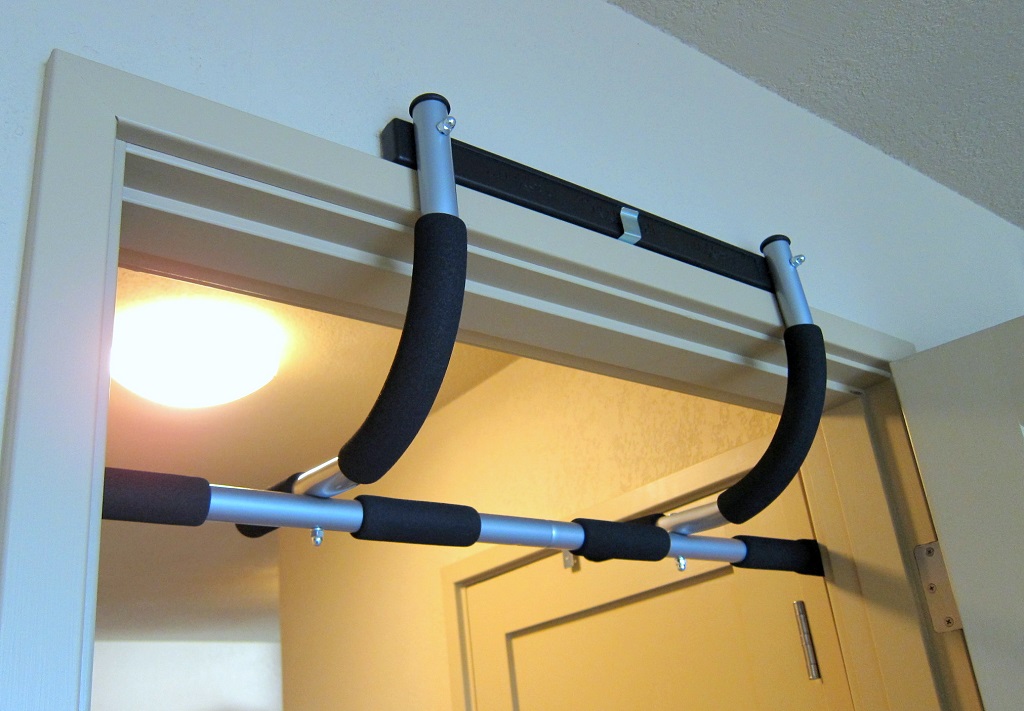 Often, it is tiresome to hit gyms every time you feel a whim to perform a quick workout session. A Pull up Bar is one such Versatile equipment that willprovide you withan intense trainingcomprising of different styles of pull ups or chin ups targeting the core muscles of your upper body, while staying at home.
Best Pull up Bar is the one which can sustain maximum weight of body, is multipurpose and has compact but robust design. Following Pull Up bar reviews will dish out better understandings about them.
Top 5 Best Pull Up Bars 2020 on the Market
The Iron Gym Upper Body Workout Bar is the most favourite and feature-packed one amongst all, featuring a versatile and heavy-duty design made from steel. The exclusive feature in this one is that it uses leverage to clamp up against the doorways, so there is no destruction to the doors. Also, it can be placed on floors to perform push ups easily.
Another remarkable pull up bar is the one from ProSource. It has 12 varied foam grips provided for multi purpose use, which is quite impressive. High quality steel frame and limited lifetime warranty also adds value.
Third favourite one from the list is the j/fit Doorway Pull up bar made from durable stainless steel and features telescopic design, toggle ends with caps for guaranteed safety.
In-depth Top 5 Best Pull Up Bars Reviews:
1. ProSource Doorway Pull-Up Bar
ProSource presents this Heavy-duty Doorway Pull Up bar which has 10 different cushioned grips of foamand 2 PVC textured handles provided for versatility, lets you perform various styles of exercises.
The unique construction of this bar arranges for all the upper body trainings, be it Pull ups, sit ups, push ups ortriceps dips, oblique crunches and leg raising exercises as well. The Slip-in design is exceedingly easy to assemble and adapts with any standard doorways of 24" to 36" width, so you can install and start using it instantly.
Lightweight in nature, this bar is precisely framed to make its portability much easier. Although, this doesn't compromise with its durability, it is made from high grade steel and certainly can sustain up to 300lbs. of weight.
The product comes included with the J brackets, so that the bar can be permanently clamped to the doorframe, if desired, with the help of screws.
Pros:
Comes with limited lifetime warranty period
Allows wide, close-grip as well as hammer grip exercises with 41" length of bar
High quality steel construction lasts for a long time
Cons:
Screws might destruct your doorframe
2. Iron Gym Upper Body Training Pull Up Bar
The Ultimate Upper Body Workout Pull up Bar from Iron Gym has a multipurpose design, framed to perform pull ups, chin ups, push ups, triceps dips, crunches and many more exercises.
There are 3 grips provided to easily carry out pull ups in different positions, be it wide, close-grip or neutral, effective in building inner and outer back. Here leverage is used to hold up bar against the doorway. Made from steel, this bar is certainly built to last longer.
It can withstand up to 300 lbs. of weight, ideal to perform strengthening exercises for Upper body and toning of the midsection as well. The precise design of the bar fits any standard doorways easily having 24" to 32" of width and the door trim panel of about 3.5" of width.
Versatile in nature, it can also be kept on the floor firmly, to perform push ups or other such exercises. You can also use it for steadying the foot while performing sit ups.
Pros:
Compact and Sturdy design with steel frame at an inexpensive price
No screws required, uses leverage to clench up against the doorway without making any damage
Installation is very quick, no tools or fasteners required
Cons:
Foam grip might wear-out after some time
3. Ultimate Body Press Wall-Mount Pull Up Bar
Ultimate Body Press Pull up Bar has a wall-mount type of design to execute different types of workouts. Precisely engineered with mounting plates having holes, this pull up bar can be easily secured to the 16" on-center wall studs.
The 4 grip positions provided targets core muscles efficiently to sculpt a strong and toned upper body. Each knurled steel grip position has superior and high density foam padding for firm and harmless grip.
It demands 14" to 21" of wall clearance so that this 42" width of bar can serve you with extreme range of motion for flexible training.
It supports different optional accessories as well, like abdominal straps, push up rings and suspension trainers, making it an ideal choice for varying the workouts and can be used by novices as well as pros. The bar has all-steel construction making it highly durable to use.
Pros:
Has black powder-coated finishing on the precisely welded body making it durable
Accurately machined mounting holes for exact fixture
Thickness of the steel bar is large, enhancing its endurance
Cons:
Lag bolts provided might seem of poor quality
4. j/fit Deluxe Pull-Up Bar- Doorway type
Another Doorway type of Pull Up bar from j/fit is claimed to be longest length of bar and can be adjusted to fit doorway frames and openings from 26" to 40" wide. The adjustable comfort grips lets you switch to any grip position that is comfortable to you and can be removed as well, for replacement.
The grips have Velcro Closures for easy adjustment. Versatile in design, it has mounting dots that lets you install it and perform not only pull ups and chin ups but also sit ups, crunches and triceps dips on distinct heights.
The screw-in mounting brackets provided allows easy fixture of the bar on any height you desire, you can execute hanging leg raises as well. Compactly designed, it is very easy to carry around anywhere, as and when needed.
The bar only projects out from one telescopic end, it has tight threading and toggle ends with caps to assure your complete safety while use.
Pros:
Made from stainless steel, bar will certainly be durable
Comes with extra door mounts and rubber stoppers to favour metal doors
Can hold up to 300 lbs. of weight
Cons:
Needs drilling into your door frames
5. Maximiza Doorway Pull-up Bar
For the intense toning and strengthening of your back, arms and abdominal muscles, this Maximiza Doorway Pull Up bar from Garren Fitness provides maximum versatility. You can execute pull ups, chin ups, hanging leg raising exercises, crunches as well as sit ups.
Made from heavy-duty chrome steel, this pull up bar is certainly framed to be highly durable. It comes with 3 sets of screw-in door mountings (2 heavy-duty sets and 1 medium-duty set) to mount it firmly on any desired height.
The heavy-duty door mounts can sustain 300 lbs. of weight while the medium-duty mounts can sustain about 200 lbs. For a safe and stable workout, the non-slip foam grips are provided that is long enough to be comfortable without injuring your hands.
The bar can effortlessly fit all standard doorways of about 26" to 36" of width. Extremely lightweight in nature, it is ideal to carry around anywhere you wish.
Pros:
Can hold about 300 lbs. of weight, if accurately mounted
Heavy-duty steel construction with chrome plating ensures durability
Sturdy and safe design, at a very reasonable price
Cons:
Foam grips might feel of low quality and doorframes will need drilling
FAQs about Doorway Pull Up Bar
1. Do doorway pull up bars damage?
2. What should I look for in a pull up bar?
3. Can you use a pull up bar without a door frame?
Exercise You can do with Pull Up Bar:
Which Best Pull Up bar will be more gainful?
Judging from all the above mentioned features, the Iron Gym Upper Body Workout Bar will be the best pull up bar so far, featuring a multiuse design so that you can perform all styles of exercises from push ups, pull ups, chin ups as well as triceps dips and crunches.
With 3 non-slip grips you can carry out wide, narrow and neutral-grip exercises easily, which is ideal for strengthening and toning inner and outer back. Best thing about this bar that is lacking in any other mentioned ones is that it requires no screws and no mountings. It uses leverage to hold up against the doorways and has a very strong built made from steel.
Another exceptional feature is that, it can be firmly kept on the floor to perform push ups efficiently and be used to steady your foot while performing sit ups. All these aspects are offered at a very reasonable price, which is certainly a perk.
>>> Check more: