Perfect for the practice sessions in your home gyms, CAP Barbell OB-86B is a robustly build Olympic Bar which offers a fairly good knurling for firm gripping.
The best feature about this OB-86B Bar is that it features a snap clip assembly for the sleeves, thus you do not have to worry about any bolts/nuts loosening. Also, the sleeves are grooved to prevent the weight plates from slipping off, which is a rare design. And, this bar also carries a pretty good Manufacturer's warranty, so that's a bonus
Let's get straight into a comprehensive review of this Barbell OB-86B Olympic Bar.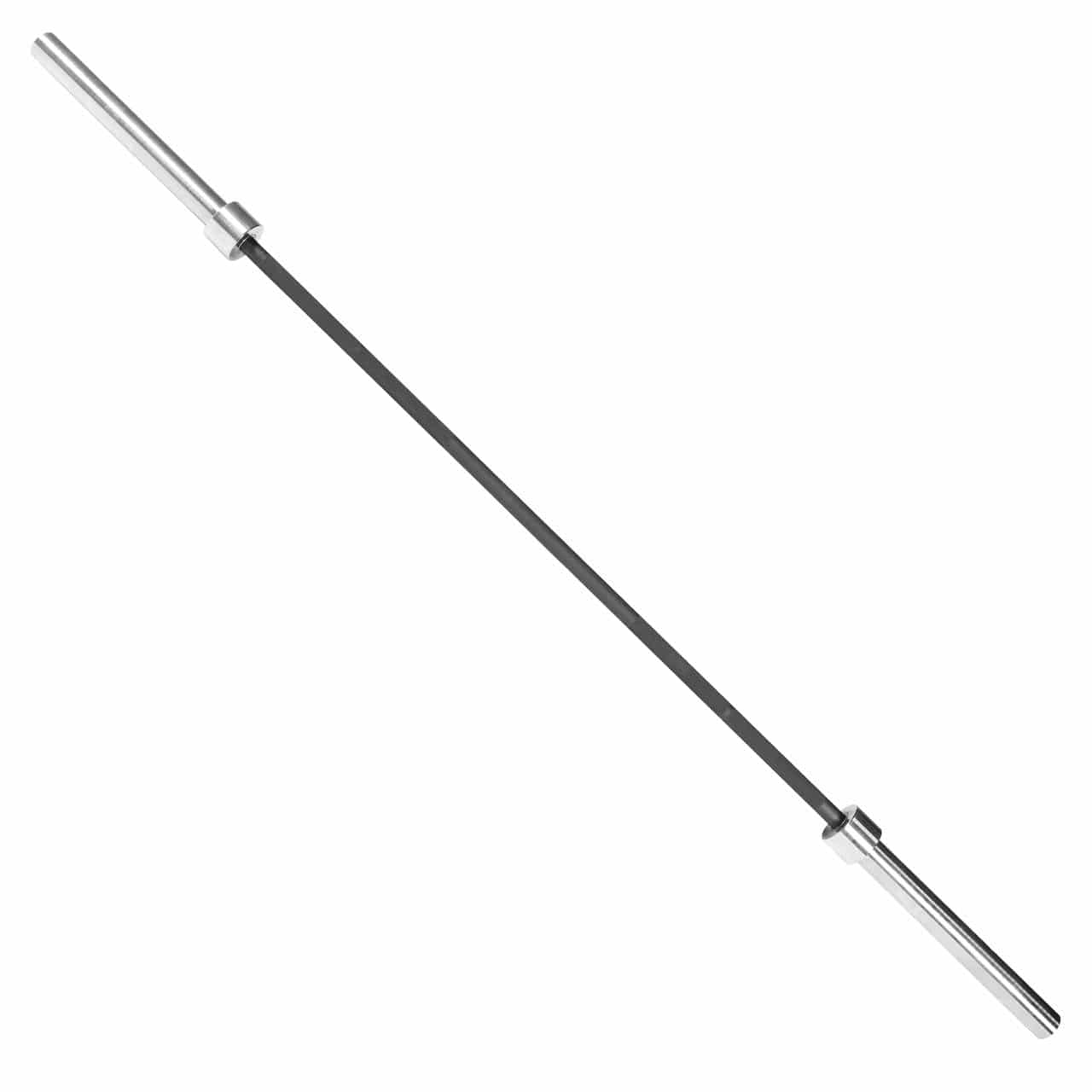 Quick Review of CAP Barbell OB-86B Olympic Bar
'The Beast' CAP Barbell OB-86B has been designed to undertake heavy-duty workouts and is claimed to be made for professional weightlifters as well as fitness club owners.
OB-86B is precision engineered for enhanced balance and durable performance. Moreover, the diamond knurling on the sides of the Olympic bar feature medium-depth, so it's not too harsh on your hands while you lift.
Sleeves feature a Snap clip assembly, so there is no fuss of bolts whatsoever. And, you do not need to worry about plates sliding as well. The sleeves swivel very smoothly, even with just a subtle touch. Hence, the bar will not be warped too soon and your wrists will not experience much pressure.
With about 1000 pounds of weight capacity, this 7' CAP Barbell has the capability of accommodating 2" Olympic plates. The Black Oxide finish and polished steel sleeves is what adds to the performance and durability of the Olympic bar. Further, the sleeves feature chrome finishing for added longevity. You can even customize the 'The Beast' if you wish with Accu-coat finishing for the sleeves.
Pros
Great value for money
Good for home gyms
Medium-depth knurling offers great grip
Backed with 3 years of Manufacturer's warranty
Robust design
Cons
Snap clip assembly might seem of poor quality
The bar seems to flex when loaded above 400 pounds
Sleeves are grooved, might make grinding noises while adding/removing plates
NO center knurling
CAP OB-86B Review: Features & Specs
Crafted with fine-quality Steel, the CAP Barbell OB-68B Olympic Bar happens to be a very sturdy and robustly designed bar. Featuring a black oxide finishing and Chrome finished sleeves, the bar looks very sleek and aesthetically pleasing. Moreover, the black oxide finish helps with the grip, but it might be difficult to spot the knurling due to the black matte color.
Measuring 86" in length, 3" in height and 3" in depth, the OB-86B weighs just about 44 pounds and claims to handle up to 1000 pounds of weight capacity. It can accommodate 2 inches of Olympic weight plates.
The Sleeves of this Olympic Bar feature Snap Clip assembly and Chrome finishing, so there is no hassle of tightening the bolts every time it loosens up nor the fear of plates falling off. Whereas, the inside length measures up to 51.6 inches. Sleeves are incorporated with ridges on the surface to prevent the plates from slipping off. However, those of you prefer smooth and slush design of the sleeve might not like this ridged surface.
The medium-depth diamond knurling on the bar goes easy on your hands, but might seem slightly weak to make out the grip while lifting. Additionally, the bar also has hand-placement grip markings to help the users with the grip.
If you wish, you can also customize 'The Beast Bar' as Special Color coated bar. All the features and specifications for this custom-made bar would be same as that of a Standard bar, but the Sleeves will feature high-tech Accu-coat Specialty coatings. These coatings will offer exceptional durability, great performance and better rust-resistant properties. Furthermore, they are much easier to clean.
Additionally, the knurling on these Customized Bars also feature Accu-Armor coating to provide enhanced grip and rust/corrosion resistance.
'The Beast' Standard OB-86B Olympic Bar is backed with 3 years of Manufacturer's warranty for your suitable use. The sturdy and durably built OB-86B is recommended for moderate to serious lifters for practice sessions in home gyms.
Who does the CAP Barbell OB-86B Olympic Bar compete with?
Body Solid 7-feet Olympic bar is treated with 3 coats of Black-chrome finish to reinforce the bar against corrosion or any possible scrapes.
Read More
Best Back Support Brace 2022 – Reviews & Buyer's Guide
Made to handle up to 600 pounds of weight, this solid steel bar might be better option for beginners seeking a well-built bar for slow weightlifting workouts. Its 30mm grip diameter is rigid enough to be ideal for training lifts as well as powerlifting. The collars have 51.5" of gripping distance.
One feature that makes it stand out from the CAP Barbell OB-86B is that, this Bar has center knurling as well as knurling at the handgrip area, so you can experiment different styles of weightlifting workouts. The shoulder bolted sleeve assembly secure the weight plates in place, but might demand maintenance every so often.
Body Solid Olympic Bar is slightly cheaper than the CAP Barbell OB-86B bar. On the down side, its chrome plating might chip off after repeated use.
Offered in two sizes of 5 feet as well as 6 feet, the CAP Barbell Olympic Bar is crafted to handle 500 pounds of weight, use your discretion to select any size.
Made to accommodate about 2" of Olympic plates, this compact bar is ideal for home gyms. However, it is just backed with 30 days Manufacturer's warranty, which is somewhat objectionable. Inner sleeve distance measures up to 46.5".
The fine-quality steel bar is finished with chrome to shield the bar against corrosion as well as scratches. Medium-depth diamond knurling does not hurt your hands while lifting.
This Olympic bar is the most low-priced one as compared to all the other bars, and is recommended for novices and intermediary lifters. For cons, the sleeves tend to wobble slightly whenever the nuts loosen up.
Read More
Best Tennis Racquet 2022: Top 4 Reviews & Ultimate Buying Guide
XMark 7' Commercial Olympic VOODOO Bar features an impressive 185000 psi of tensile strength with moderate flex; ideal for optimum performance during squats, snatches, deadlifts, cleans, etc. And so, you can efficiently use it for cross training, powerlifting as well as Olympic training.
The premium-quality Black Manganese phosphate coating on the shaft adds to the high longevity of the bar and is fairly rust resistant. Dual Spec Medium-depth knurling comes with IWF and IPF knurling marks for your suitability.
The chrome sleeves swivel smoothly, thanks to the brass alloy bushings that are self-lubricating. The sleeves feature dual snap ring system to ensure that they are securely bonded with the shaft. This commercial-quality bar is made from high-qualityheated alloy steel and can handle about 1500 pounds of weight, without bending.
Due to its superior build and spectacular features, XMark VOODOO Olympic Bar carries a very hefty price tag, as compared to the CAP Barbell OB-86B Olympic bar.
Buying CAP Barbell OB-86B?
In my opinion, the CAP Barbell OB-86B is a great Olympic Bar for training sessions in your home gyms, and not really recommended for commercial use. Even though the bar seems to carry 1000 pounds of weight capacity, it can still bend when loaded with over 600 pounds of weight. On a positive note, it is a very solid sturdy bar and the knurling provided also seems to be very pleasant. If you seek a reasonably priced yet strong Olympic bar, then this might be a great alternative for you.