What is Cocaine Addiction?
Cocaine, also known as crack, is a highly powerful drug and a stimulant with a strong potential for addiction.
In the short term, cocaine can lead to the following effects –
A decreased appetite
Euphoria
A sudden sense of alertness and energy
Amplified wakeful
While these effects can be tempting in the short term, prolonged use of this drug can lead to several acute and life-threatening consequences. The abuse of drugs can cause cardiovascular stress such as higher blood pressure and rapid heart rate, insomnia, and anxiety.
Many cocaine users develop more grave health problems like mental health issues, kidney failure, and heart diseases.
Cocaine comes as an extract from coca leaves which are found in South and Central America. It falls under the list of Schedule II drugs. It is sometimes used in some medical procedures. For example, it's often used as a topical/local anesthetic during dental procedures.
The drug has a high potential for addiction and abuse. It also goes by several other street names like snow, rock, blow, and coke.
Below are the 4 commonest ways of using cocaine:
Snorting
Rubbing on gums
Dissolving into the water to inject it
Inhaling
Prolonged usage of this drug can cause serious harm leading to even death.
Symptoms of Cocaine Addiction
Cocaine addiction can manifest in different ways in different individuals. However, below are some of the commonest tell-tale addiction-related signs to watch out for that will require Cocaine addiction treatment:
An increase in tolerance where you have to use larger amounts to achieve the same effect
Uncomfortable withdrawal symptoms when you stop using the drug
Not being able to reduce or stop the usage
Inability to stop using cocaine even despite rising health complications
Declining quality of life and negative impact on employment and relationships
Spending too much amount of money and time obtaining and doing cocaine
Hallucinations
Psychosis
Anxiety and irritability
Neglecting every day responsibilities to indulge in binge sessions
Popular Treatment Options for Cocaine Addiction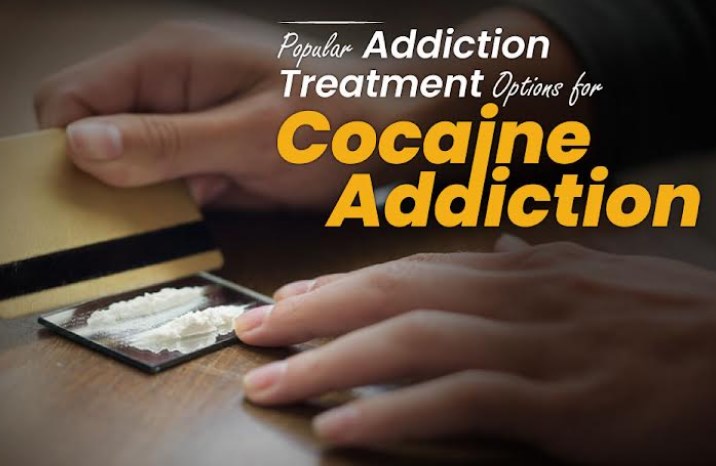 Behavior Treatment
It's also known as Cognitive Behavioural Therapy or CBT and is common for treating various kinds of addictions. CBT is a popular treatment method at many top-rated addiction treatment centers and can be performed on both an inpatient and outpatient basis. The focus is on certain behaviors that might be causing or worsening the addiction.
Common tactics include rewarding the patient every time he/she meets his goal of stopping the drug usage. It also focuses on teaching several coping mechanisms every time there's a temptation to do the drug.
Medications
Even though there are no specific medications that can treat cocaine addiction completely, there are some medications that can ease the withdrawal period. The commonest medications used for this purpose are antidepressants.
Medically Assisted Detox
Detox is usually the first step in treating most forms of addiction. Even though you can do it at home, it's best to have medical supervision.
Some people can go through painful withdrawal periods during detox including symptoms of intense cravings and depression which may cause self-harm.
Medically supervised detox not only ensures safety but also helps you find long-term success.
In-patient Programs
This rehab option is best for people dealing with severe cocaine addiction. Inpatient programs can last anywhere from 1-3 months. The person has to live within the facility until the treatment is over. There's regular access to nurses and doctors who regularly monitor the patient's condition.
Some inpatient rehab programs also have amenities for a more comfortable stay including spa and pool privileges, private room, gym access, and fine dining.
Outpatient Addiction Treatment
Outpatient treatment programs are good for people who cannot give up on their daily responsibilities and leave home to go to a rehab. They can continue to do their job, take care of kids, or attend school while also receiving addiction treatment.
Outpatient programs are less intensive than inpatient rehab centers for drug addiction. However, if you're someone who doesn't have a supportive network of people or have a triggering environment, this may not be the best option for you.
Sober Living
Sober Living is like a transitional program that you go through after completing an inpatient or outpatient treatment program. The goal is to help the person transition from rehab to living with sustainable sobriety.
Sober living can involve living in group homes or gender-specific houses and also demands adherence to program requirements, community policies, and regular drug tests.
Bottom Line
Cocaine addiction is not something you have to live with. If someone in your family or an acquaintance is going through this addiction and needs assistance, always remember that help is available.
The treatment may be a little difficult, but achieving sobriety is always possible.