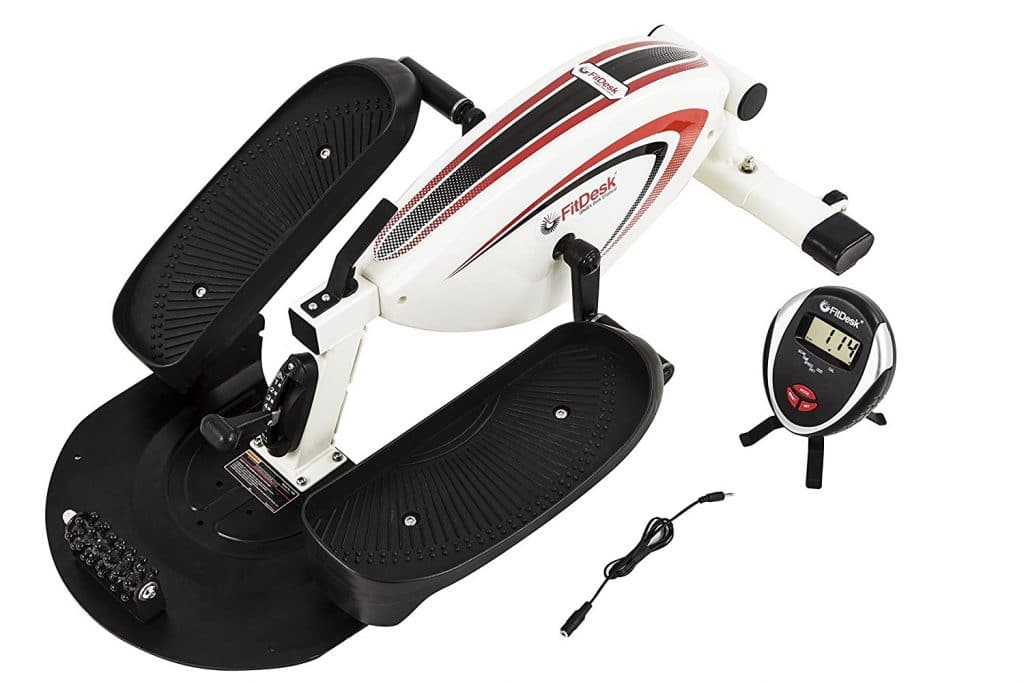 FitDesk Under Desk Elliptical Trainer is a feature-packed and durable piece of equipment that will help you stimulate lower-body workouts, additionally help you stay focused and active.
Following FitDesk Under-Desk Elliptical Review will provide better insights about its features, specifications, and functionality.
Our Rating:
Check Best Price on Amazon.com
Quick Review of FitDesk Under Desk Elliptical Trainer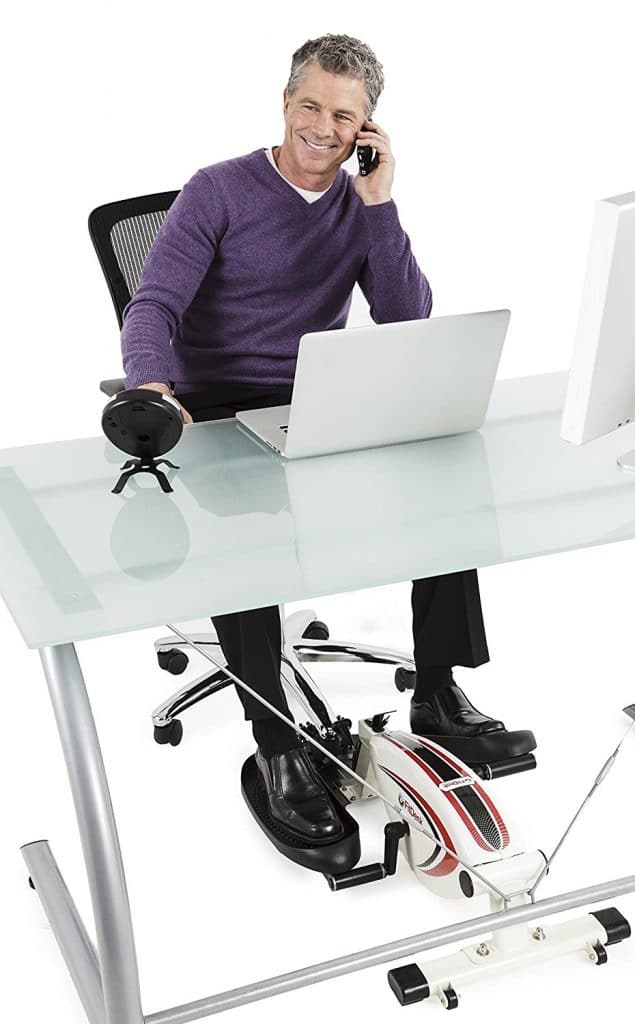 FitDesk proposes their unique version of Under-desk Elliptical with aesthetically sleek looks.It has about 8 levels of Magnetic Resistance and features a high velocity, balanced flywheel which delivers silent and smooth performance.
Even at the lowest resistance level, this Under-desk Elliptical provides you with an intense pedaling motion. And so, it is recommended for people with sedentary jobs who seek under-desk equipment for highly concentrated and intensified workouts that will work on their glute muscles, thighs, knees and legs.
FitDesk Under Desk Elliptical allows a natural fluid shuffle motion. Meaning, it uses smooth backward and forward elliptical motion, like it is mimicking large elliptical units. Designed with lowest pedal height possible for any under-desk, your knees won't thud with the bottom of the desk every time you pedal. It can easily adapt with desks that are as low as 25".
The included Digital Meter will come handy to track your workout progress. Crafted with steel, the FitDesk Elliptical is fairly durable and solid.
Pros
Offers 8 different Magnetic Resistance levels
High-velocity Flywheel delivers smooth and quiet pedal motion
Lowest pedal height of just 8 inches
Digital monitor comes with a Desk stand for handy use
Foot-shifter makes it easy to change resistance without having to bend down
Backed with 3 years of Warranty period
Cons
FitDesk seems to be longer, might slightly come out of your desk
Needs timely lubrication
Might make knocking sounds sometimes
Cord provided with the Desk stand is too short (can be replaced)
Check Best Price on Amazon.com
Fitdesk Under Desk Elliptical Review: Features and Specifications
FitDesk Under-desk Elliptical Trainer is perfect equipment for users with deskbound jobs looking for stimulating their physical activities. It can also help you enhance your focusing power. It provides you with an intense workout, highly activating your glute muscles, knees, thighs, leg muscles efficiently. The unit weighs about 31 pounds providing a stable and secure workout platform.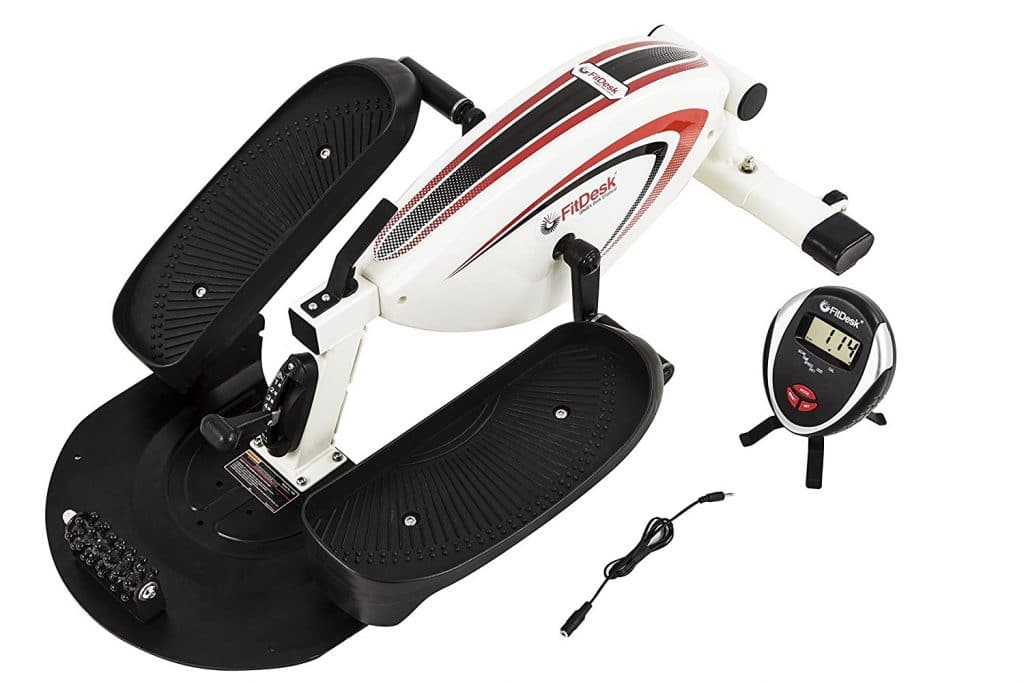 Featuring an Exclusive low-profile design, the FitDesk Under-desk Elliptical uses just 8 inches of pedal height and can easily operate under the desks that are as low as 25 inches. The unit measures 28.4" width x 11.3" height x 18.4" depth. It has been constructed from Steel frame and has white finishing for better durability.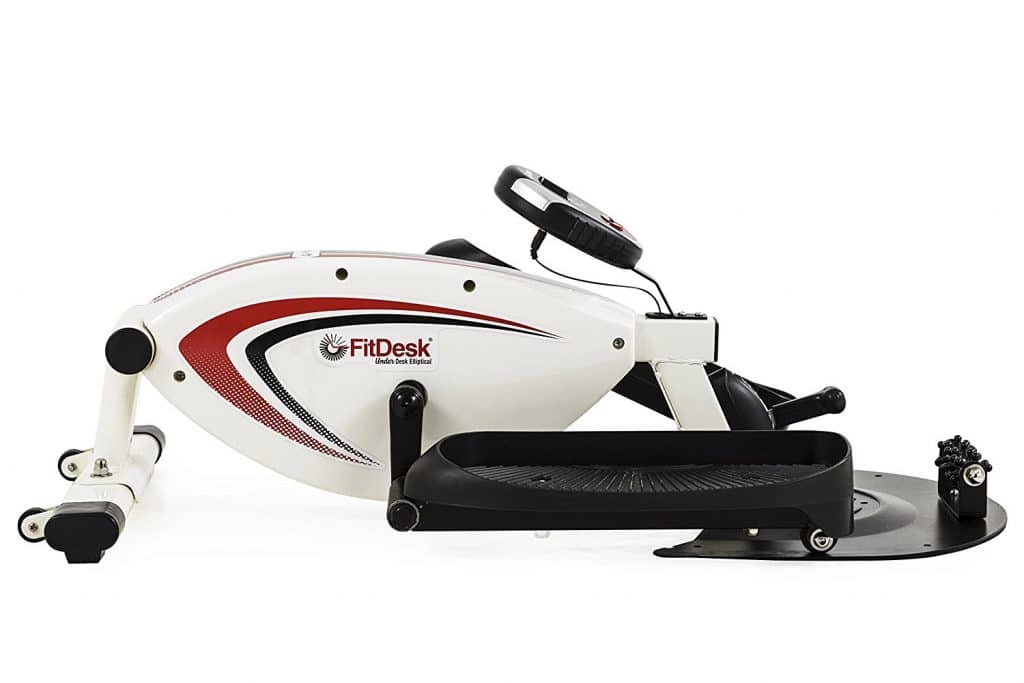 Oversized Platform pedals are designed for maximum comfort of the user. It provides ample amount of space for your feet and you can easily locate the pedals under desk without even looking.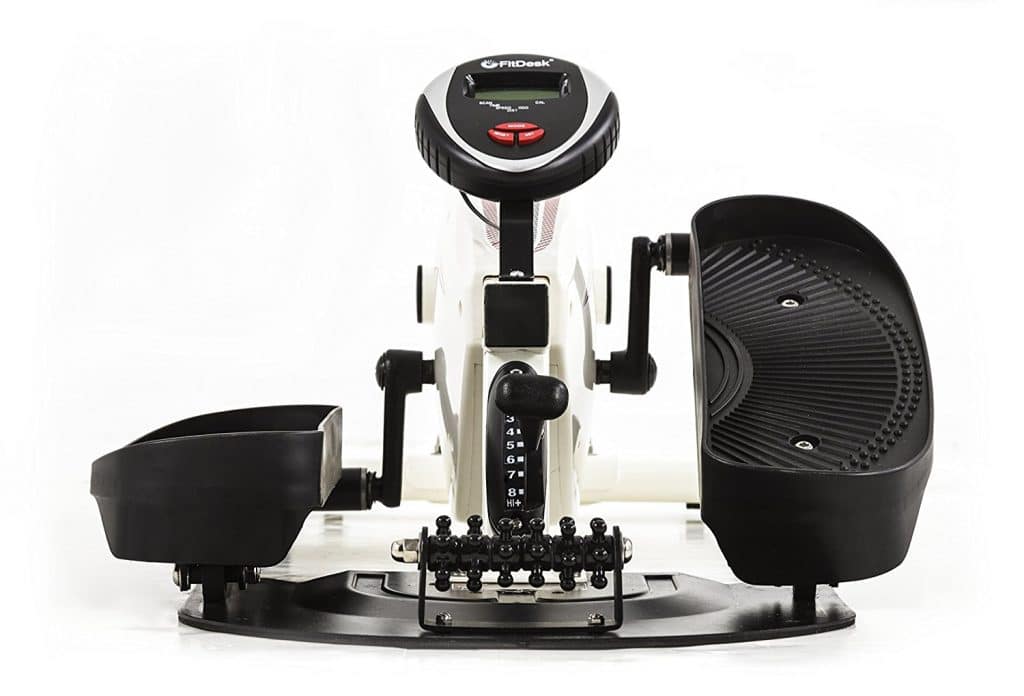 Uniquely designed foot-shifter allows hands-free adjustment of Magnetic resistance, as and when needed. There are total 8 levels of Magnetic resistance; even the lowest setting offers an intense pedal motion.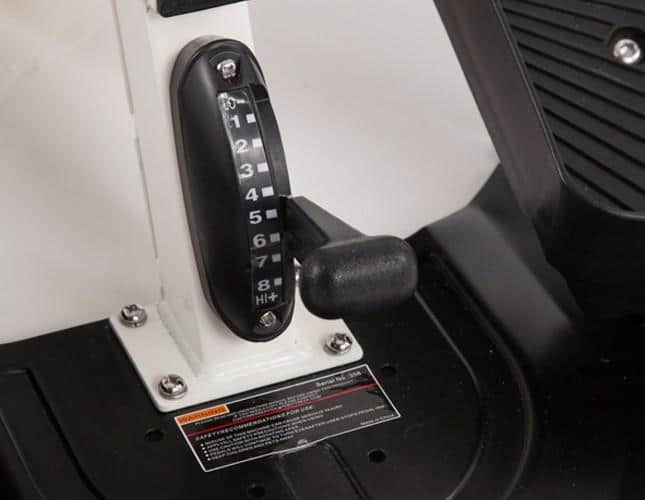 FitDesk Under-desk elliptical comes all-included with a Rolling Foot massager to relieve the strain from your feet, all while you work. It also doubles as a handle which you can hold while maneuvering the unit around.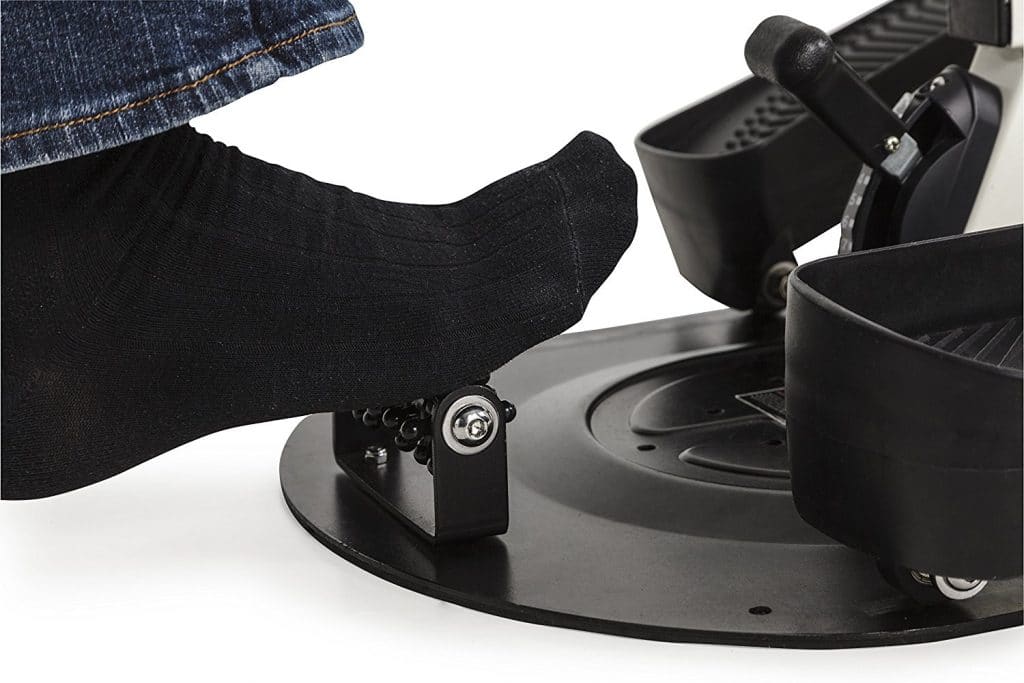 Inbuilt transportation wheels allow quick and easy portability. You can even utilize it to slide the elliptical trainer under your desk and start your exercise right away.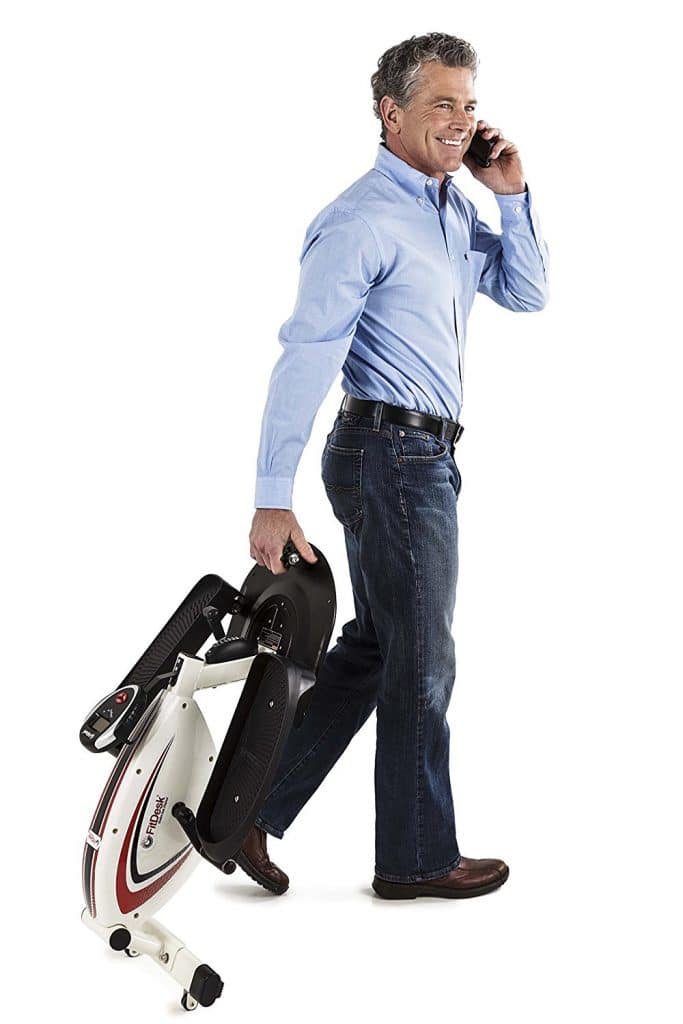 Petite-sized 6-function Monitor displays your workout metrics. The unit comes all-included with a cord and a desk stand, so you can place it on your desk and track your workout progress handily.
The wheel lock feature locks your rolling chair in place without you having to put in much effort. It also prevents you from separating far away from the unit.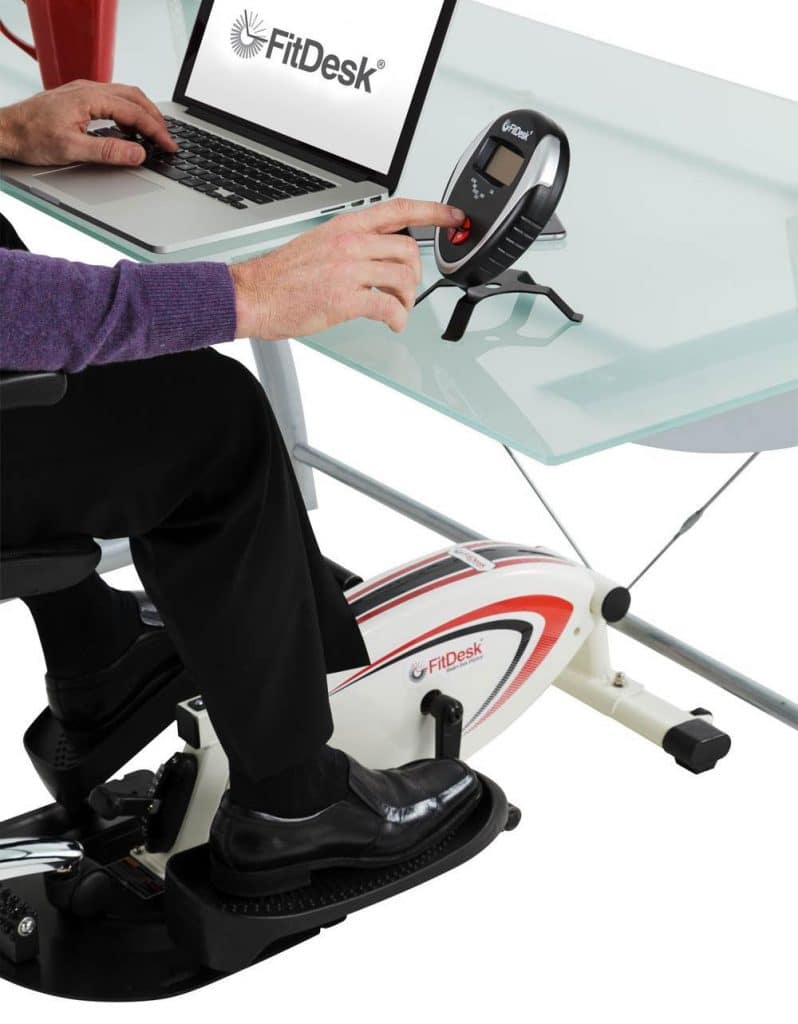 Check Best Price on Amazon.com
Who does the Fitdesk Elliptical Trainer compete with?
DeskCycle Pedal Exerciser is somewhat similar to FitDesk Under-desk Elliptical.
It provides a low pedal rotating height of 10" and can adapt with desks that are minimum 27". The 8 calibrated Magnetic resistance levels can be adjusted to your desired level of intensity.
The effective flywheel weighs 39 pounds and delivers smooth and noiseless performance.
5-function monitor can show your workout data like speed, time, distance traveled, calories burned and has a 'Scan' mode as well. In terms of affordability, DeskCycle has been priced similar to the FitDesk. The pedals are not as wide as FitDesk Elliptical trainer, but they come with Velcro Straps for extra security.
>>> See more Top 5 Pedal Exercisers in the market
For those of you, who want an elliptical machine that allows sitting as well as standup pedaling, can opt for this j/fit Under-desk exerciser.
What makes it different from FitDesk Elliptical is that angle of the pedals can be easily adjusted up to 3 positions to adapt to your desired type of pedaling.
The top handle allows easy portability, whereas front handle keeps rolling wheel chair in place and gives extra support to the user as well. Unique roller blade wheels that are integrated with pedal mechanism ensure smooth and quiet motion, but needs to be lubed every so often.
Monitor can track your workout and show time, distance, calories burned and speed. This monitor also has turning dial, so you can switch from sitting to standup exercising. It is fairly low-priced than the FitDesk trainer, hence is optimum for home gyms.
Lightweight and compactly designed Stamina In-motion Elliptical machine is ideal for home as well as office use.
The unique concept of 'Foot-pedal only' features a chassis that is integrated with Oversized Platform pedals which easily fits under a desk.
It can be used for low-impact workouts without causing much strain to your hips, legs, and joints. Unlike FitDesk Elliptical, this Trainer allows standup as well as sitting pedal motion, but standup pedaling without any support demands a better sense of balance. It also allows reverse pedaling. Multi-functional Monitor displays your workout progress like calories burned, strides/minute, total strides and time.
However, there are no markings on the tension knob provided for adjusting resistance. It is extremely cheaper than the FitDesk Elliptical and hence comes with lesser but effective features.
Buying Fitdesk Under Desk Elliptical?
FitDesk Under-Desk Elliptical might be an optimal purchase if you want intensified workouts even with such low-impact unit. The lowest level of resistance will still demand some effort from you. The quiet and smooth performance of this unit allows you to use it in office without disturbing coworkers. All in all, it is an affordable under-desk workout gear that comes with power-packed features for your apt use.