After undergoing dental implant surgery, it's normal to experience minor bleeding, swelling, and discomfort around the implant site. You may also notice red saliva following your implant procedure; this is expected and can be resolved with gentle mouth rinsing. Your dentist may also provide take-home gauze sponges designed to absorb blood. However, dental implants will require you to make minor changes to your diet and hygiene routines, at least in the short term.
In the days and weeks after surgery, it is highly recommended that you avoid eating certain types of foods to protect your dental implant(s). Once the implant is embedded into the jawbone, you will be responsible for practicing careful oral hygiene. According to the Oral Health Foundation, dental implants can last many years if they are properly maintained.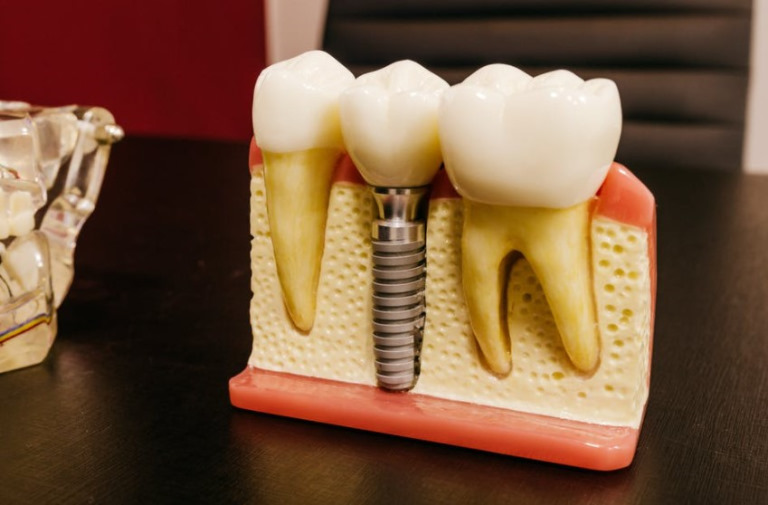 Avoid Hard Foods and Hot Beverages
You should not eat hard foods after a dental implant procedure and should also avoid hot beverages and spicy items. Failing to follow these recommendations can result in complications in the recovery and healing process of the implant site. After 3-4 days, you can resume your normal diet but still avoid biting on hard foods until you feel comfortable. One of the reasons dental implants fail is because of the trauma caused by pressure or excessive biting force on the implant site. That is why it is necessary to abstain from hard foods and avoid chewing at the area of your implant, even if you have a temporary crown in place.
It is best if you choose softer foods that don't require vigorous chewing. It is also recommended that you avoid chewing where the implant site is located to avoid pain and discomfort. Your dental surgeon will have stitches in place to keep your gums together around your new implant (the stitches can be temporary and removed later, or they can be self-dissolving). Patients often feel tension and slight discomfort from the stitches, and to avoid any more discomfort, dentists recommend you avoid foods that require heavy chewing.
Do Not Brush Vigorously
Having an oral hygiene routine in place is essential for the implant site to heal successfully, but you want to be extra careful not to brush vigorously. It's also not a good idea to swirl water around in your mouth no matter how tempting it may be, your gums are still tender, and the implant site is still fresh. On the following day, rinsing can be more tolerable, and you can use a warm saltwater solution and rinse your whole mouth gently, especially after eating food.
After a few days have gone by, you will need to clean the implant site and abutment (if you already have it attached) by using a Q-tip and a cleaning solution to eliminate any stubborn food residue. Over-the-counter mouthwashes can be used, but if your dentist has given you one via a prescription, use that one instead.
Avoid Damaging Habits
To maximize the life of a dental implant and, ultimately, the durability of your crown, habits such as smoking and chewing tobacco are not good ideas. According to the Centers for Disease Control and Prevention, smoking is one of the main contributors to gum disease in the United States. Smokers have a higher chance of developing gum disease and are more prone to tooth loss and tooth decay. As with any surgical procedure, it is important to follow the post-operation instructions provided by your dentist. If you do not, complications can occur such as excessive bleeding, swelling, pain, possible infection, and even dental implant failure. If that happens, your dentist will have to remove the implant and replace it with a new one once the infected site is cleaned and treated.