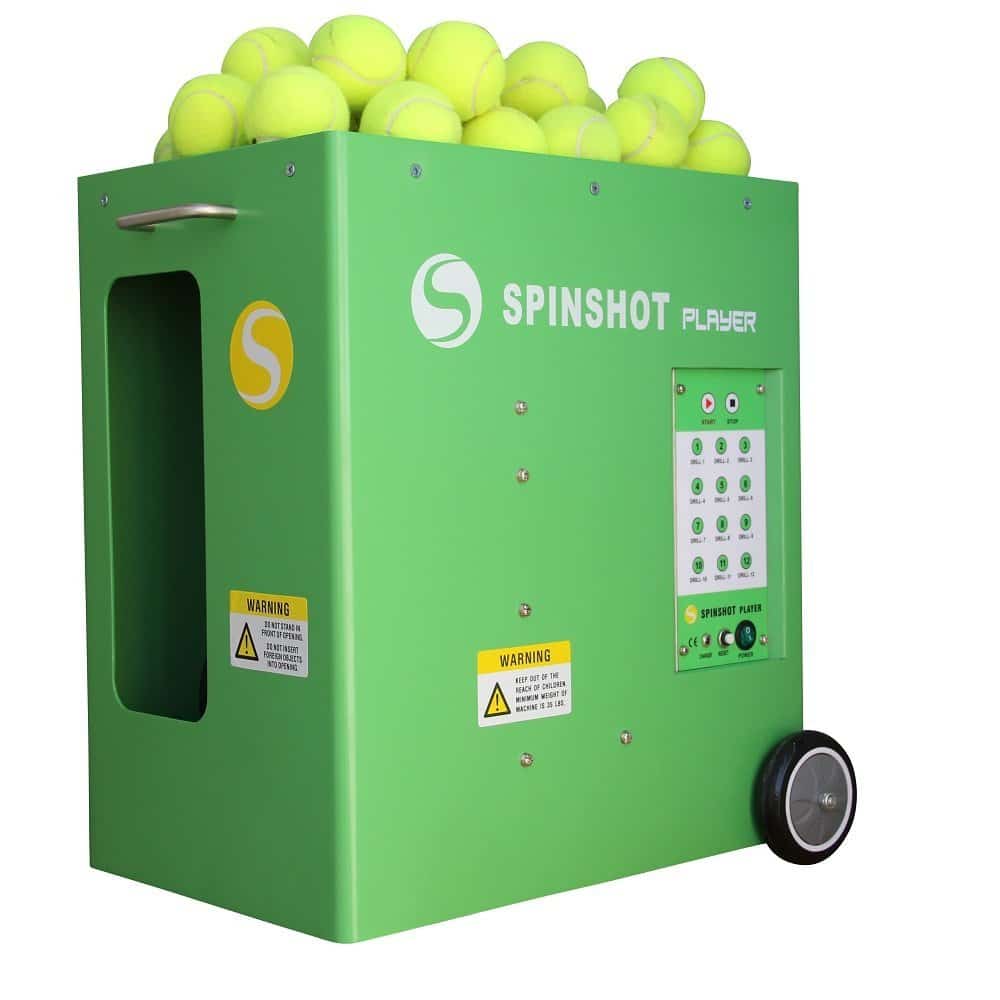 Today we are going to review Spinshot-Player Tennis Ball Machine that has Phone-Remote supported feature. Before I jump into the details, let me say that it is one of the best high-tech Tennis Ball Machines available in the market today, thanks to its extraordinary design aspects.
Tennis players are well aware of the fact that mastering shots that have a lot of spin on it, is a really challenging task. With Spinshot-Player lobbing different types of shots with different spins, Tennis pros can get the knack of their game. Offered at such a shockingly affordable price, Intermediate as well as Professional players must certainly go for this machine.
Our Rating:
Check Best Price on Amazon.com
Quick Review of Spinshot-Player Tennis Ball Machine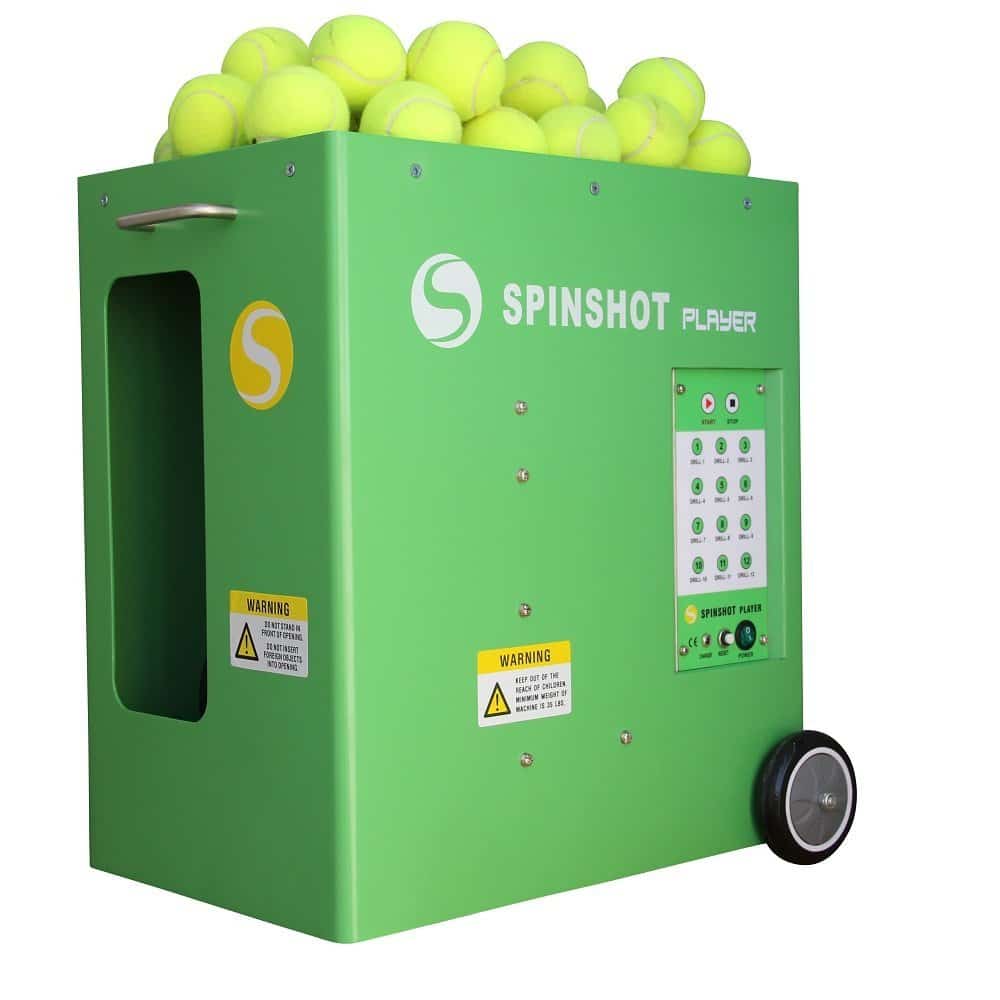 One of a kind in terms of its performance, build quality and unique features, Spinshot-Player tennis ball machine is hands-down one of the best Advanced machine available today. This battery-operated portable tennis ball shooter machine flaunts an innovatory design where you get to customize your own drills.
It allows you to program angle, height, spin, speed and feed rate for every shot out of 6 consecutive shots, which you can save as your customized drill for later use. Besides, the machine has been pre-programmed with 12 drills which deliver versatile shot positions to master your skills. You are free to adjust any of these pre-programmed drills to match your skill levels (novice or professional).
What makes it so special, you may ask? You can set 2-line drill at any height and any width. And that's not all, you can even combine horizontal oscillation along with vertical oscillation or any other oscillation mode you want. All these procedures can be controlled on your mobile phone and saved into the unit for next time use. Later, all you need to do is press the "drill #" which you want and you can start your game. As simple as that.
Pros
Premium build quality; Not made from plastic
Metal construction has powder-coating for better durability
Random Oscillation targeting on full court
Allows full customization of Drills
Phone-remote supported (Wi-Fi); each drill can be customized via phone
Includes towing wheels for easy maneuvering
2 years of Limited Warranty on machine; 6 months Warranty on battery
2-line drills is an amazing feature
Cons
Only supports Android and iPhone-supported apps (No Windows or other apps)
Programming might feel challenging to some of you
Top speed on ball is still not very fast
Check Best Price on Amazon.com
Spinshot-Player Tennis Ball Machine Review: Exceptional Features
Spinshot-Player Tennis Ball Machine is power-packed with advanced features just like you would find in highly-priced machines. To name a few, this machine features customized drill settings, Random-oscillation settings, Phone-remote control and Electronic elevation control. Unlike most of the Shooter machines available today, Spinshot-Player is not made out of plastic rather it boasts a rugged aluminum frame.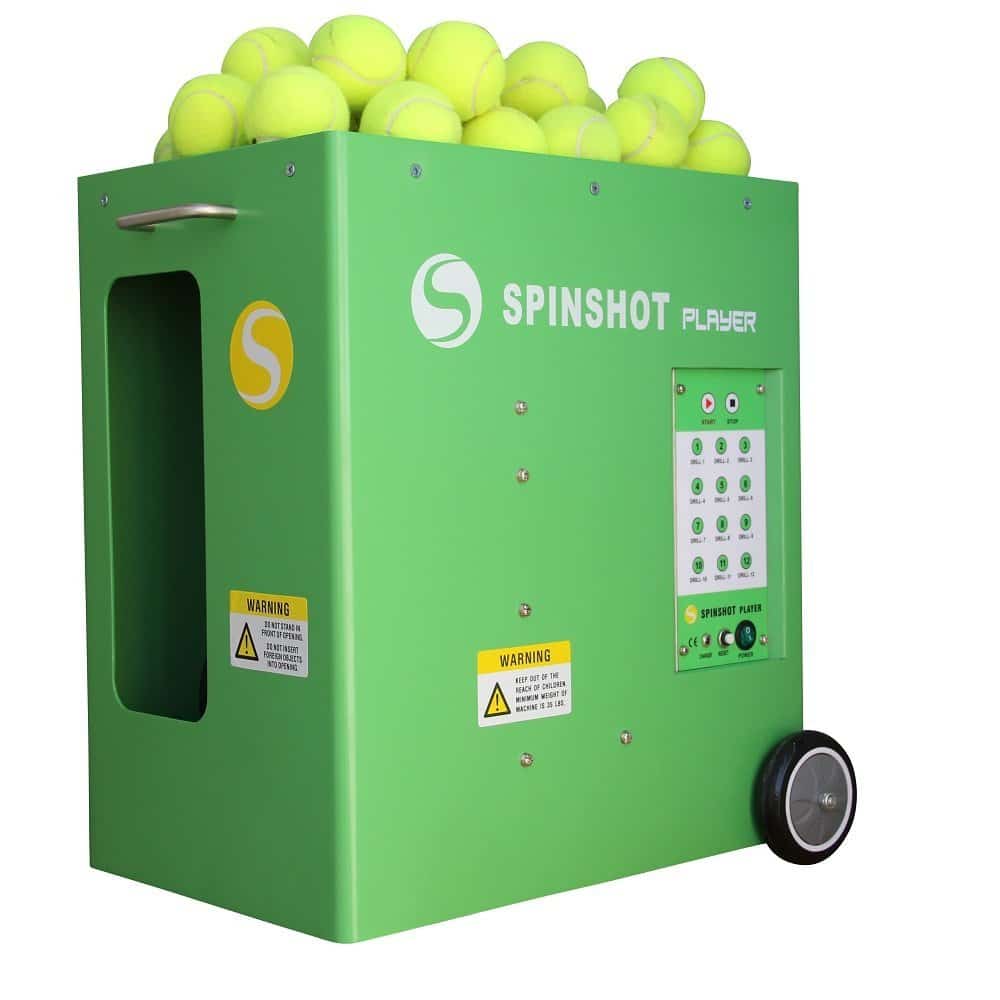 Fully Programmable interface allows you to customize your drills and challenge yourself with different shots. Full coverage range of the machine will deliver throws onto any part of the court. From short to long, fast to slow, left to right and high to low- all types of throws can be programmed with this machine.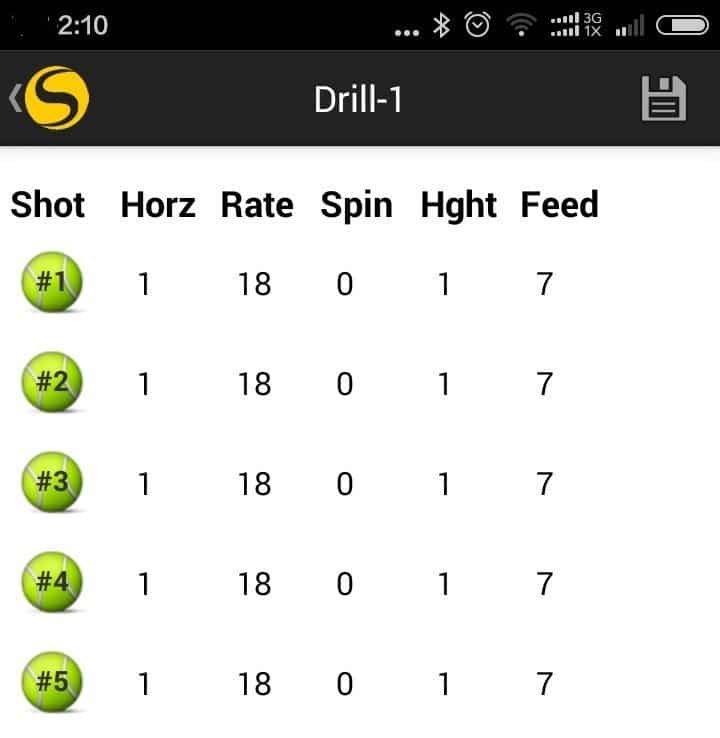 Without demanding any additional charges, this machine has Phone-remote supported feature. You can use this upgrade to program every shot in terms of its height, spin, speed, and feed rate. And best of all, all oscillation modes are available in this unit. You can control it with iPhone, Android phones or even iWatch through Wi-Fi connectivity.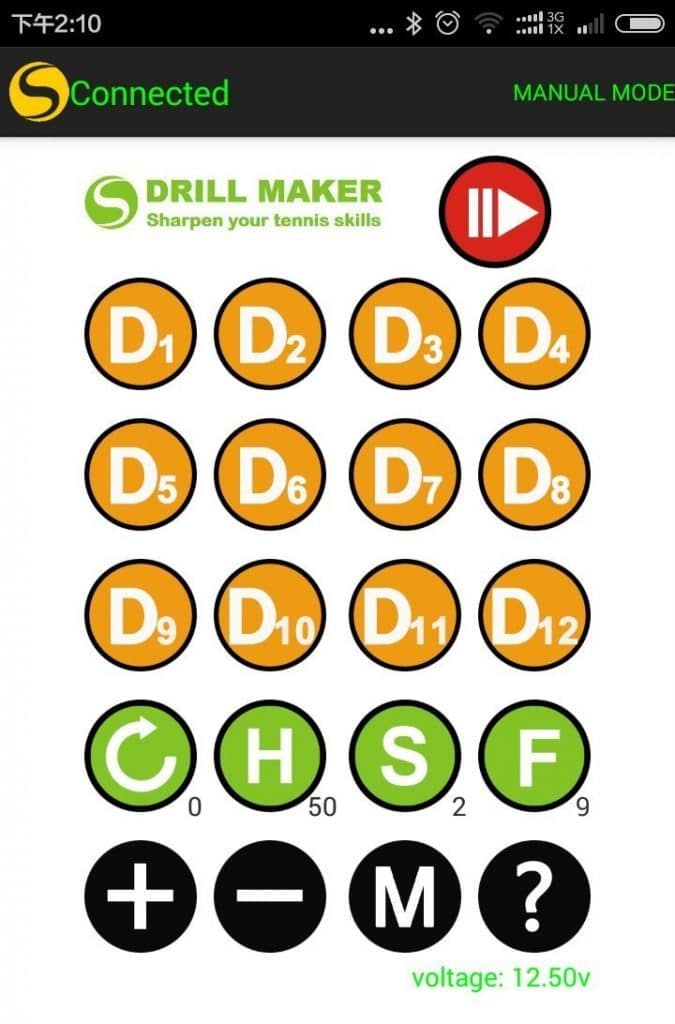 An extended handle is provided so that you can tilt the machine slightly and utilize the towing wheels to maneuver the machine around the court.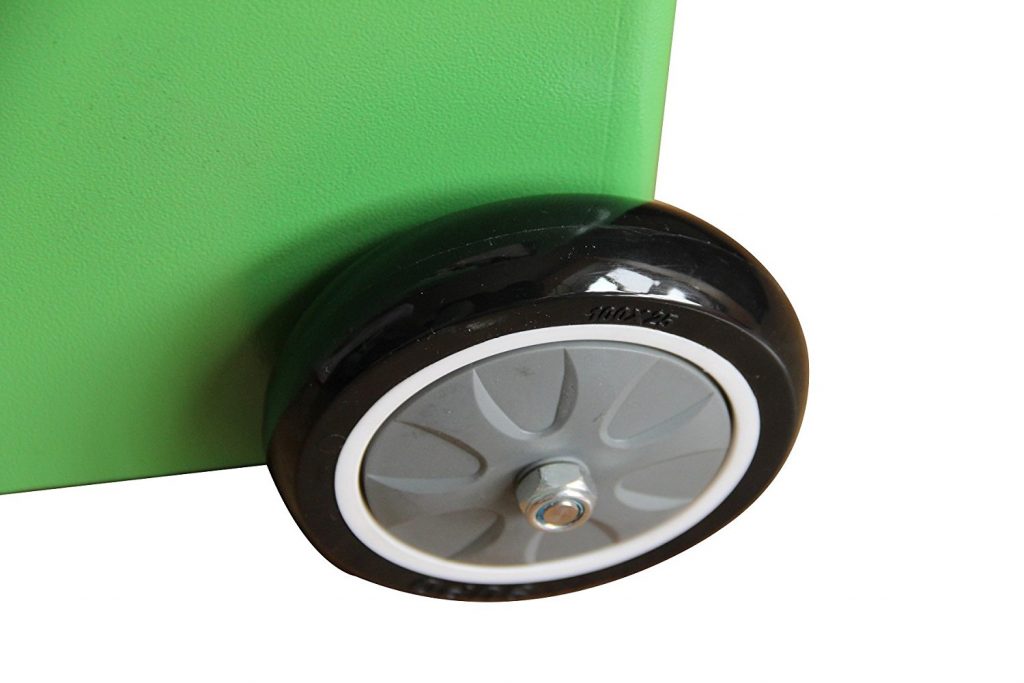 All in all, Spinshot-Player measures 50 cm in Height, 50 cm in Length and 35 cm in Width. Weight of the unit is 21 kgs for the battery-operated model (Charger included). Battery can hold its charge for about 2 to 3 hours of game. You can even upgrade this unit to AC power supply.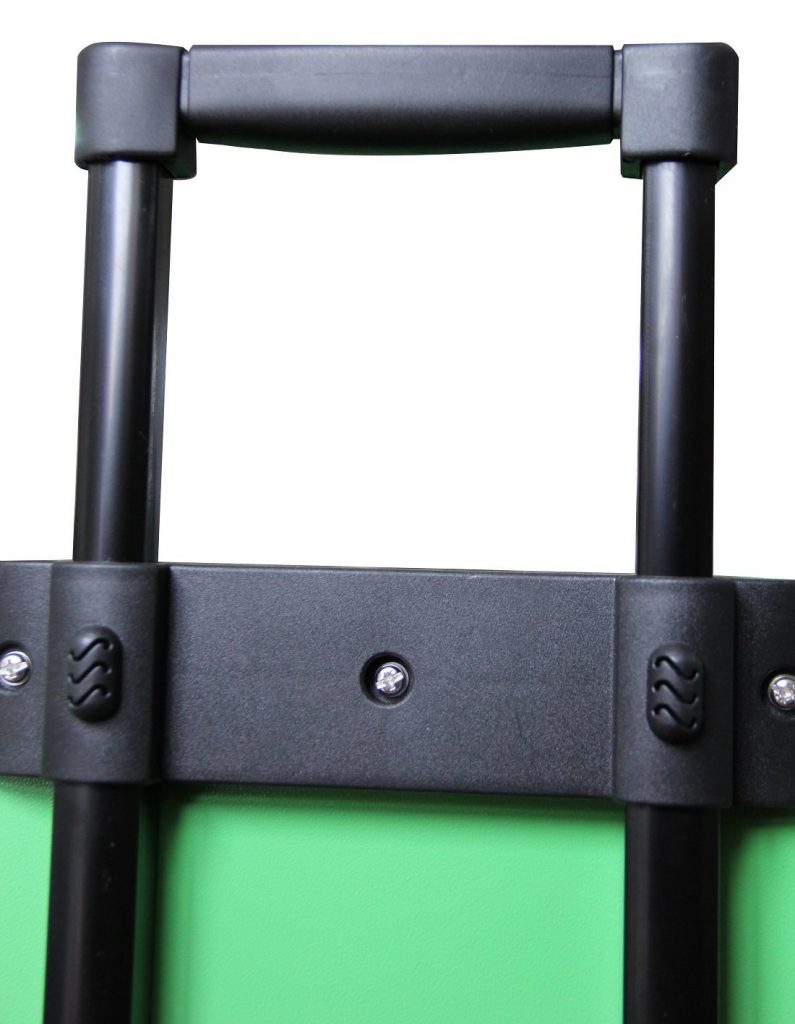 This revolutionary machine can throw balls with 110 kmph of speed, besides with top spin you can lower this down to 30 kmph. Meaning, all types of shots can be attained with Spinshot-Player. Feed rate of the ball can be adjusted from 2 seconds to 10 seconds for every shot.
Mastering top and back spin is what differentiates a Tennis Pro from a novice player. To help you sharpen these shots, the Spinshot-Player lets you electronically adjust different degrees of top and back spin.
The hopper has the capacity to hold about 120 balls. Want to know the best part? You don't have to manually crank any knob to adjust the ball height. With Spinshot-Player you can electronically adjust the ball trajectory with just press of a button.
2-line function is another extraordinary feature in the machine. Here, you get to change the angle of horizontal throws from narrow to wide.
Note: Battery comes included with the machine, but is shipped to you separately.
Check Best Price on Amazon.com
What Products would work great together with Spinshot-Player

?
1. Pressureless Tennis Balls
As Tennis ball machines are used for practice sessions, it is only natural that you use Pressureless balls with such machines due to the sole reason of their longer life and consistent bounce.
Pressureless balls bounce because of their Outer rubber shell and not because of the pressurized internal air. Which is why, they do not lose their bounciness too quick with repeated use.
You don't really have to replace Pressureless balls after few games, hence they are pretty cost-effective option. In fact, they become even more bouncy when the outer felt wears out.
There are many brands that offer fine-quality Pressureless Tennis balls. Best ones in this category would be, Gamma Sports Bucket or Bag of Pressureless Tennis balls for playing on all types of courts. Whereas, Tourna Mesh Carry Bag or 18 Tennis balls is perfect option for those who are low on budget.
And lastly, Penn Pressureless 48 Ball bucket is great for beginners to use in practice sessions.
2. Tennis Ball Hopper
One can only imagine the fatigue that is caused when all the balls lying on the court are to be picked up manually. That's when a Tennis Ball Hopper will come handy. It is a great investment for those who use Tennis ball shooter machines, as you don't have to bend down and pick each ball. Tennis ball Hopper will happily do this irksome job for you.
Gamma Sports Tennis Ball Hopper is an inexpensively-priced unit that will pick up maximum 140 balls in one go.
But if you want a high-end premium model, then you can opt for Gamma Sports Premium Tennis Teaching and Travel basket.
Who does the Spinshot-Player compare with?
As compared to Spinshot-Player, the Lobster Sports Elite Liberty Tennis ball shooter is low-priced and seemingly has less features. Ergonomically designed machine has Oversized wheels and extended handle for easy portability with weight of about 35 pounds.
Hopper capacity is about 150 balls and it might be an ideal machine for novices or intermediate players who want to get used to the ball spin and speeds. It is capable of delivering random horizontal throws whose speed can be adjusted from 20 mph to 80 mph. Balls spins can be adjusted from flat feeds, topspin or backspin, as per your choice. For practicing your overheads, this machine can adeptly lob balls up to 50 degrees of height.
On the down side, Lobster Sports Elite Liberty machine features Manual elevation control and the charging process is also very slow. Not just that, the Optional accessories like fast charger or a Remote control are very expensive.
Carrying a massive price tag, the Lobster Sports Phenom II Club Series machine has high capacity and flaunts a very heavy-duty design as compared to Spinshot-Player. Fully programmable design of the machine allows you to customize your drills to work on your footwork and handwork.
Complete random oscillation settings allows the machine to lob balls onto entire range of court with combination of random feed, random depth oscillation, random 2-line oscillation and random spin. The machine comes pre-programmed with 6 shot drills, besides you are free to choose from 18 different shot locations.
The only negative point here is that, even with such a high price, the Remote Control is not provided along with the machine. Such high-end model is highly recommended for Club use or Professional court-owners. That's because the machine is quite heavy and not so portable. Ball speed ranges from 35 to 80 mph, whereas the feed rate can be adjusted from 2 to 9 seconds.
Buying Spinshot-Player Tennis Ball Machine?
Bottom line is, Spinshot-Player has to be the most reasonably priced, yet radical and feature-packed Tennis Ball Shooter Machine available out there today. Thanks to its Electronic elevation control, Random oscillation settings, Fully Programmable interface and Ergonomic design aspects, you will certainly not be disappointed with its optimal performance.
If you ask me, the most win-win deal about this machine is that it has Phone-remote supported feature without you having to pay extra cost for it.