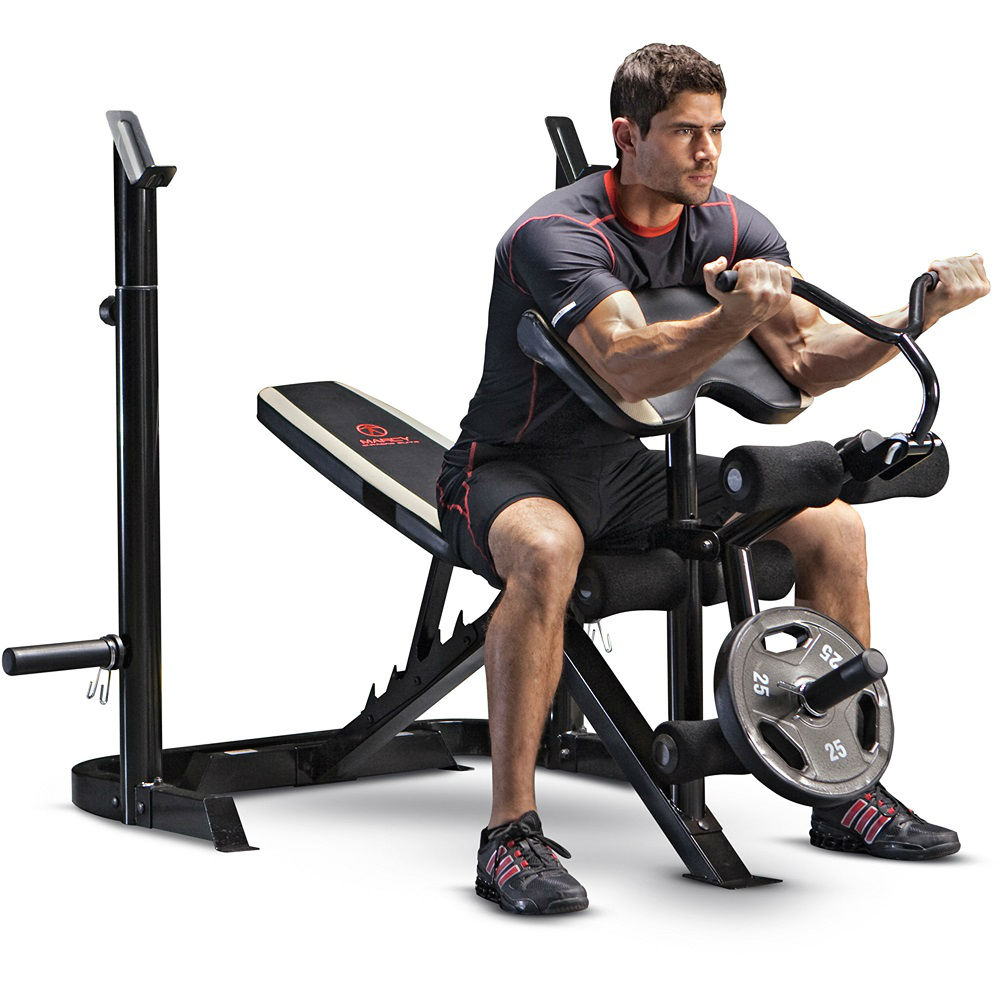 Olympic Weight Bench is extremely versatile, high grade training equipment that allows you to perform an intense full body workout targeting to strengthen and tone core muscles. They are amply wide and long compared to the Standard benches, but moreover are endurable. You can carry out bench pressing, various barbell lifts, chest flyes and chest row exercises.
Best Olympic Weight Bench is the one that is highly durable, has thick padding for support, is adjustable and which allows advanced weight lifting for lifting pros. Following Olympic Weight Bench Reviews will hand out better understandings about them.
Quick glimpse of Top 5 Best Olympic Weight Benches 2021
Built with a heavy-duty 3" steel frame and uprights, the Phoenix 99226 Power-Pro will be the best Olympic Weight bench having a highly versatile design. It allows different flat, decline and incline bench positions to perform varied upper body exercises. Unique feature of this bench is that it has Lat tower, Preacher curl and Leg developer extension provided, all-in-one equipment. Rear section has built-in squat rack for upright squatting. 1 year warranty on frame is an added advantage.
Marcy Diamond MD-857 Olympic Surge Bench is the next favourite one with its high-grade steel structure, foam and vinyl upholstery. Allows 4 diverse bench positions and comes with an adjustable arm curl, a leg developer and features a reverse walk-in squat station.
Marcy Diamond MD-879 bench is also quite impressive and versatile with its 2-piece robust steel-made design for upper as well as lower body intense workout.
In-depth 5 Best Olympic Weight Benches Reviews:
Phoenix presents their version of Power Pro Olympic weight bench that is made from heavy-duty3" of steel frame and uprights for steadiness and durability. It is a full Olympic-sized bench that allows incline, decline as well as flat positions of bench to perform various exercises. The product comes included with the Deluxe Lat tower and Preacher curl attachment, which is indeed a perk.
In the rear section, there is an inbuilt squat rack allowing you to perform squats easily. It can easily hold Olympic weight plates with the 3 adapters and spring clips provided. It also offers a Leg lift with Curl Bar attachment, making it highly versatile. The uprights are at a distance of 42" from each other on inside measurementwhich are adjustable to adapt Olympic Barbells easily.
Pros:
Comes with 1 year of warranty period for frame
Comes with storage stands for Lat Tower and Arm curl
Barbell supports have 400lbs. of weight capacity, perfect for heavy lifting
Cons:
Might be uncomfortable for taller users and Lat Tower is not aptly designed
CHECK ON AMAZON.COM READ FULL REVIEW
Body Champ introduces this Olympic Weight bench made from heavy-duty 2.5 inches of square tube frame which certainly offers high durability.
It allows you to perform abdominal crunches, with the help of Preacher curl and Crunch handle provided. They are reinforced with high density padding for better support to the lifters.
It has adjustable backrest which offers 7 different positions including decline, incline, flat, military positions for versatile workout experience. This bench racks are compatible with most of the 8 inches and 7 inches of weight bars.
The bench comes with Leg developer with which you can perform leg curls or leg extensions. It comes with adjustable foam padded rollers for better support. Other features offered with this bench are an Olympic plate adaptor and spring clip for Leg Developer providing suitability.
With racks having no-pinch design and the safety hooks provided, this bench ensures safe use and prevents any sort of injury to hand. Inbuilt U-shaped leg stabilizer offers added support and comfort while exercising.
Pros:
Comes with Handle Attachment having foam grip to perform Abs Crunches
With Olympic Adaptor, you can use either standard or Olympic plates
Adjustable uprights can be used for bench pressing as well as upright squats
Cons:
It has maximum weightlifting capacity of just 180 pounds, not ideal for heavy lifting
Structure made from high-grade steel, this Olympic Weight bench from Marcy is certainly durable and has a versatile design to provide a full body workout. Back pad and seat are built on a slide track that allows 4 different positions to perform pectoral workouts like chest press, military press, etc.
There is adjustable arm curl bar having comfortable padding to let you carry out different arm exercises with better support. The bench has 2 weight plates' storage posts at the rear for mess-free settings.
Dual-function leg developer comes with a pivot point that properly aligns with knee joints and locking mechanism lets you do abdominal workouts easily. It has contoured rollers with padding for a firm support while performing leg exercises. Two bar catches provided in the rear section doubles as a reverse walk-in squat station.
This bench is compatible with the Olympic sized barbells and weight plates. Made from 2" and 2.75" 14 gauge square-shaped steel tubing, this bench is sturdy and stable. High density 2" foam and accentuated vinyl padding makes the design more endurable.
Pros:
Back pad offers incline, decline, flat, upright positions for intense workout
Bar catch height can be adjusted as needed and total weight capacity is 600lbs.
Highly versatile design, structure is powder coated for durability
Comes with 2 years of warranty period on all parts
Cons:
Adjustable seat might feel slightly unstable sometimes
Another one from Marcy, this Olympic weight bench is exceedingly versatile in use, with its 2-piece design you can utilize it for the enhancement of upper as well as lower body muscles. A detachable arm curl handle is provided for building biceps withrubber grip for smooth and controlled grip.
The back pad and the arm curl pad can be adjusted as per your convenience that allows 5 different positions including incline, decline and flat positions to carry out chest presses. 2 inbuilt posts provided at the rear side allow easy storage of weight plates.
The frame of the bench is made from 14-gauge tube-like steel with padded vinyl foam seats for extreme comfort. The height of the barbell crutches can also be adjusted as per your accessibility.
This bench can be used as a squat rack to do walk-in squats and lunges. It has a complete powder coated finishing for high durability. Safety locks are provided to secure the lifters in place while performing intense workouts. The contoured foam padded rollers allows full leg workouts.
Pros:
Steel frame is highly resistant against rust and moisture
It has a total weight capacity of 600 pounds
Can accommodate both mid-sized as well as Olympic-sized barbells
Cons:
Flat position of the bench might feel uncomfortable and not so uniform
Best Fitness Olympic Weight bench allows strengthening and toning of upper body with bench pressing. It allows several incline, upright and flat bench positions for performing different styles of pectoral exercises. These positions can be controlled with the provided safety-pull pin for a better support. This bench is compatible with both 6 foot as well as 7 foot of weight bars.
The bench comes with an inbuilt leg curl extension combined with a standard plate holder for carrying out controlled leg exercises. Made from robust steel frame and powder coated finishing, this bench is certainly built to be durable.
The most unique feature about this bench is that it can be completely folded for easy storage and also it has a small footprint taking up very less space. It comes with an impressive 3 years of warranty on frame, 1 year for parts and 30 days for wear components.
Pros:
Height of the verticals can be adjusted
It is padded with high quality cushions
Can be folded up and stored away when not in use
Cons:
The gap between back pad and the seat might feel too wide and uncomfortable
Which Olympic Weight bench will prove to be more rewarding?
With its versatile design and sturdy construction, the Phoenix 99226 will be the best Olympic weight bench so far. It allows incline, decline, and flat bench positions to perform various styles of bench pressing exercises.
The most unique feature provided in this Olympic weight bench which is lacking in any other mentioned ones, is that it comes with a Lat tower, Leg extension and a Preacher curl attachment, all 3 in one single equipment. Also, rear section of the bench can be used as a squat rack for secure and comfortable squatting.
Another exclusive aspect of this bench is that it comes with 3 Olympic weight plate adaptors and spring clips. Made from heavy-duty 3 inches of steel frame, this bench is highly durable.The upright are at a distance of 42" from each other, ideal to accommodate Olympic Bars.
With all these remarkable features provided, it comes at a very reasonable price and a 1 year of warranty period on frame, which is certainly a bonus. The bench and the preacher curl have high density padding with vinyl cover for high durability and support.