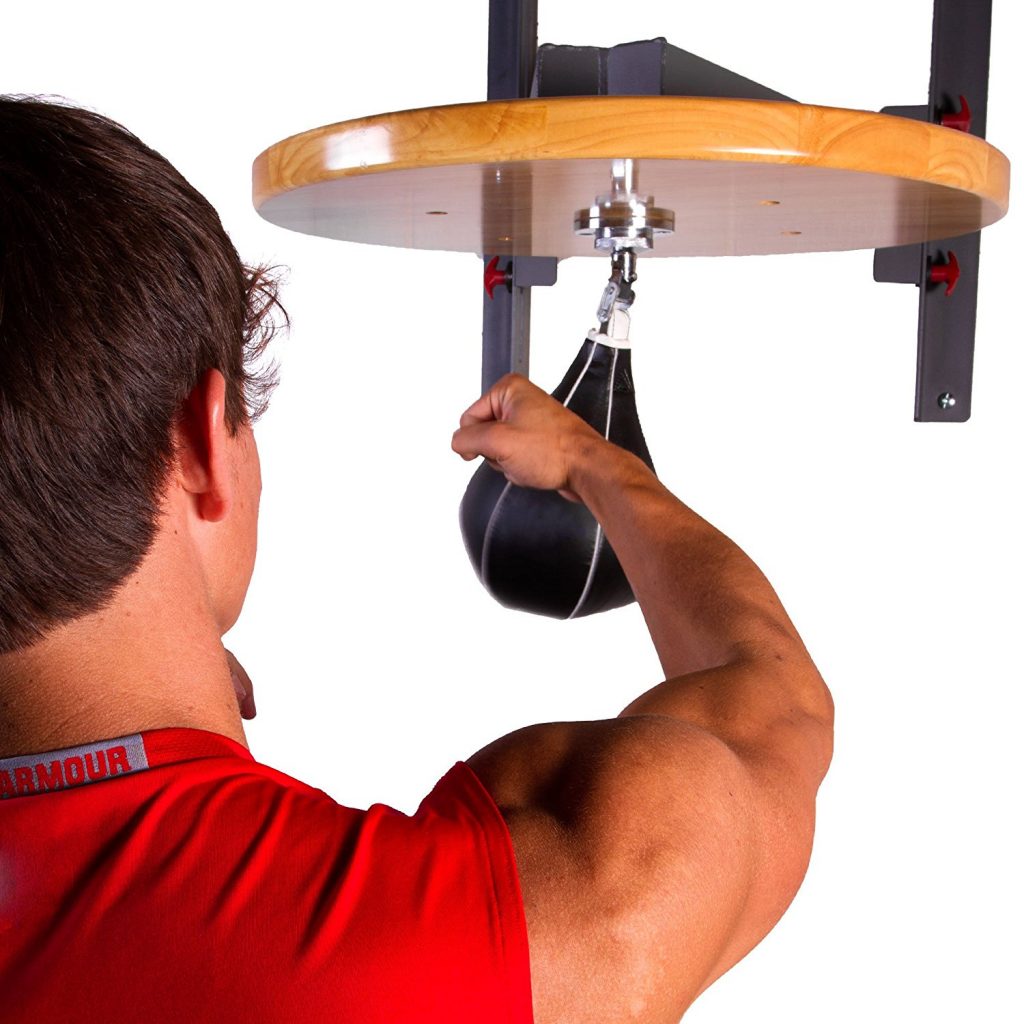 For deadpan serious boxers and beginners, with a good-quality speed bag you also need a solid and robustly designed platform that gives stability to your workout.
Most of the platforms in the market come included with a speed bag, swivel and wall mount hardware to complete your speed bag station.
Best Speed Bag Platform is the one that does not vibrate, does not make noises and provides a fairly stable foundation for your workouts. Below given Speed Bag Platform reviews will shell out detailed info as regards to their features and functionality.
Top 4 Best Speed Bag Platform 2021 on the Market
| | | |
| --- | --- | --- |
| Product Name | Feature | Our Rating |
| | Best OVERALL | |
| | THICKEST 2-inch | |
| | Heavy Duty V-Platform | |
| | Best BUDGET Speed Bag Platform | |
In-depth 4 Best Speed Bag Platform Reviews:
Constructed from heavy-duty solid 11-gauge steel frame, the XMark Speed Bag Platform ensures extreme endurance and less vibration during your speed bag training.
It has an adjustable design up to 15", so athletes can handily adjust the equipment to any desired height as per their convenience.
XMark offers a 1.5" thick hardwood platform with furniture finishing for better durability. The platform also comes all-included with professional-grade ball bearing type of swivel for optimum hand-eye coordination training.
This commercial-grade platform might be an ideal option for moderate to Pro Trainers who need a heavy-duty platform for boxing training. XMark platform measures about 31.5" x 24" x 23.5". You can mount the platform on 16"centers.
Pros:
Mainframe made from heavy-duty 11-gauge steel
Height is adjustable up to 15 inches
1.5" thick hardwood has furniture finishing for enhanced durability
Comes with professional-grade ball bearing swivel
Durable platform, perfect for commercial use
Does not vibrate much
Cons:
Swivel might seem poorly designed
Does not come with a speed bag
Exclusively designed with high-density wooden, Valor Fitness CA-53 is certainly one the finest speed bag platform for athletes.
This wooden platform is 2" thick and 23" in diameter. In addition, the mainframe is made from steel tubes for better stability. Whole platform has been further reinforced with a ring guard for extreme protection.
Featuring worm drive type of mechanism, you can adjust the height of CA-53 platform up to 13 inches, whichever feels most appropriate for your performance. Assembling this Valor Fitness Speed Bag Platform is extremely stress-free; it comes all-included with the necessary tools and instructions.
This exceptionally thick platform is ideal for beginners as well as moderate boxers for training their arms and shoulders with 360° rotating swivel. Best thing about this platform is that, it comes included with a speed bag and pump as well, for your utmost suitability.
Pros:
Steel-made frame and 2" thick wooden platform
CA-53 platform has been protected with a ring guard for better durability
Worm drive mount allows 13 inches of height adjustment
Comes with pump and speed bag for handy use
Assembly process is simple; comes with instructions and tools
Cons:
Included speed bag might not be ideal for serious boxers
Swivel mount needs to be tightened every so often
Solely made in USA, the Balazs i-Box might be an impeccable speed bag platform to be installed in your home gyms, especially for novice boxers.
Incorporated with the exclusive Balazs Pro Level II Swivel, you will have a solid platform for your intense boxing training. It allows up to 12" of height adjustability, so as to accommodate different heights of athletes.
Balazs offers this i-Box in 3 vibrant colors, that is, yellow, red and black; you can pick whichever appeals you best. For your high-performance training sessions, this platform features a heavy-duty V-frame constructed from 11-gauge tubular steel and 1.25" thick wooden drum. This wooden drum is further powder coated with clear glossy finishing for better durability and features 24" of diameter to adapt with any size of speed bags.
For a firm hold, the ergonomically designed knobs lock snugly across the rails.
Pros:
V-frame made from 11-gauge steel tubing offers sufficient stability
1.25" thick wooden platform with powder coating is fairly durable
Height can be adjusted vertically up to 12 inches
Offered in 3 color choices
Comes with the Balazs's exclusive Pro Level II swivel
Solid platform does not vibrate during boxing workouts
Cons:
Does not comes included with a speed bag
Might be too expensive for some people
Incorporated with a professional-grade Swivel, Everlast Elite Speed Bag Platform is one of the affordable options to use in home gyms.
This 24" diameter drum can accommodate any size of speedbag efficiently. This drum is further armored with full-end rubber padding for your utmost security. Frame is constructed from heavy-duty steel and is powder coated for better endurance.
Additionally, it also comes included with 2 brace boards and all the other hardware required for assembly. Spring pin lock allows you to adjust the height vertically up to 8" with 1" of increments, so different athletes can conveniently perform their training. Strike board is 1" thick, making it easier for amateur boxers to intensify their workouts.
Everlast Elite SpeedBag Platform is backed with 120 days of limited warranty period.
Pros:
Extremely affordable
Comes with professional-style Swivel
Constructed from heavy-duty steel which is further powder coated for durability
Backed with 120 days limited warranty period
Perfect to be used for home gyms by novices
Drum has full-end rubber padding for better security
Height can be adjusted via spring pin lock
Cons:
It does not come with speed bag and hardware required for wall mounting
Locking knobs might seem poorly designed
Do I need a Platform for a Speed Bag?
If you are bound and determined towards boxing training, then investing in a speed bag Platform is certainly a must. Apart from enhancing your hand-eye coordination, speed bag also trains you in bettering your reflexes, defensive skills and physical strength.
Usually, speed bag platforms come with a Swivel, making it easier for boxers to have some degrees of movement around the speed bag and add versatility to your boxing.
Hanging your speed bag with a good-quality Platform will provide a solid foundation to your intense training, whereas the cheaply made drums will cause vibration and rattling noises while you hit the speed bag.
A heavy-duty and thick platform will help you in maintaining a fine rebound. Such platforms will not vibrate much or make noise during boxing training.
How to install a Speed Bag Platform?
Almost all of the Speed Bag platforms come with the necessary hardware and tools required for assembly, you just need to have basic installation skills for a successful setup. Wall mounted platform are more stable and sturdy for boxing training as compared to free standing platforms.
Below given are basic steps on How to install a wall mount Speed Bag Platform:
Basic tools you might require for assembly will be electric hand drilling machine, drill bits, a wrench, wall mount and wall mount hardware (generally comes with the product)
Required pieces to be assembled would be Support brackets, swivel, drum, screws for fastening swivel with drum and other fasteners like bolts, lock washers, etc.
Firstly, you need to decide on which wall you are going to install the platform and whether you have all the necessary tools
Then, you need to snugly attach the Swivel against the drum with the help of drilled holes and screws
Generally you need to mount the platform on 16" centers, locate the provided wall mount studs on the wall where you want to install the platform
Fasten the supportive brackets over the top of strike board with the help of bolts, nuts and washers (provided tools)
Now lift up the platform and place it across the wall, adjust the desired level of height. For this step, you need to ask someone for a helping hand.
For better understanding, make markings on the wall through the holes of supportive brackets
Now you need to drill the holes on these markings for attaching the support brackets onto the wall
Finally, mount the platform on the wall with the help of fasteners
Attach the speed bag with the swivel and you are good to go
Following are some things You Need to KEEP IN MIND while Installing a Speed Bag Platform:
Most of the platforms available in the market are heavy weighted especially when the frames are made from steel, so it is highly recommended to have a helping hand while setting up
If you are planning to mount this platform on a concrete wall, then make sure you pick out right fasteners.
You must mount the platform at a height where the bottom most of speed bag will hang just at the level of your chin or eye.
In case of Adjustable platforms, make sure you install the equipment at a mid-ranging height, so different users can easily adjust the height later on, as per their convenience.
If the platform vibrates while you are hitting the speed bag, then see if the fasteners are loose and tighten them, if so.
If the vibration continues, try to put on additional weight onto platform like dumbbell or a sandbag for additional stability.
Make sure this extra weight is within the limits, the wall mount must be capable of enduring this weight and such weight must also not collapse over you.
How to Hit a Speed Bag?
For getting effective results and better efficiency with your boxing training, you need to punch the speed bag correctly. Below given are some steps on how to hit a speed bag correctly.
Beginners need to keep your fist loose, do not tighten it too much and do not punch the bag with your knuckles
Make sure you are standing at a distance of an arm from the speed bagand your feet are front-facing slightly wide.
Make sure your shoulders are squared up with the speed bag
Place your hands up and close to the bag so that you can keep track of the speed bag, without much struggling or missing the hit
Keep both of your hands in a position where it is parallel to the ground
Move your hands like you are gesturing small circles in the air, instead of just making fore/aft hand movements.
Once you get used to the speed bag and its movement, you can start more intense hand movements like hitting the speed bag 3 times with one hand and 3 times with other hand.
Count the rebounds of the speed bag, you need to hit the bag at an odd number of rebound.
These 3 rounds of punching must be done using different angles of your side-facing fist to enhance your boxing skills better.
When you highly increase the speed, you might not be able to count the rebounds, but you will get used to rhythm and that's how you will know when to hit the bag.
The smaller will be the speed bag, the faster will be its movement. Beginners are recommended to use medium-sized speed bags for getting used to the training.
Pro boxers can use smaller speed bags for highly developing their hand-eye coordination, get better control of the bag and improve their punching speed.
Once you get used to the rhythm of the speed bag, you can increase your speed of punching and try out different styles of hitting for better efficiency in your workouts.
Which Best Speed Bag Platform should I buy?
Speed bag training is highly constructive towards boxers, both beginners as well as pros, to positively boost their mental and physical growth. For that, you need to have a solid and sturdy platform that will support the speed bag proficiently and will not cause vibrations while you work out. Speed bag Platforms are best to be used in home gyms or health clubs for improvising your boxing skills.
In my opinion, XMark Adjustable Speed Bag Platform is the Best Speed Bag Platform amongst all the other mentioned ones. With its heavy-duty construction, solid thick strike board and adjustable design, it certainly ensures high-performance training and better durability.