Your home gym cannot be complete without a Power Rack. It is the single most useful equipment that you cannot go without.
The only issue with power racks is that they are expensive. Buying a cheap power rack is not a good idea as it is not safe. Why risk your life just for the sake of a few bucks and when you have other better alternates available?
You can easily build your own power rack at home. You don't have to be an expert. If you can use the basic tools, you can create a power rack.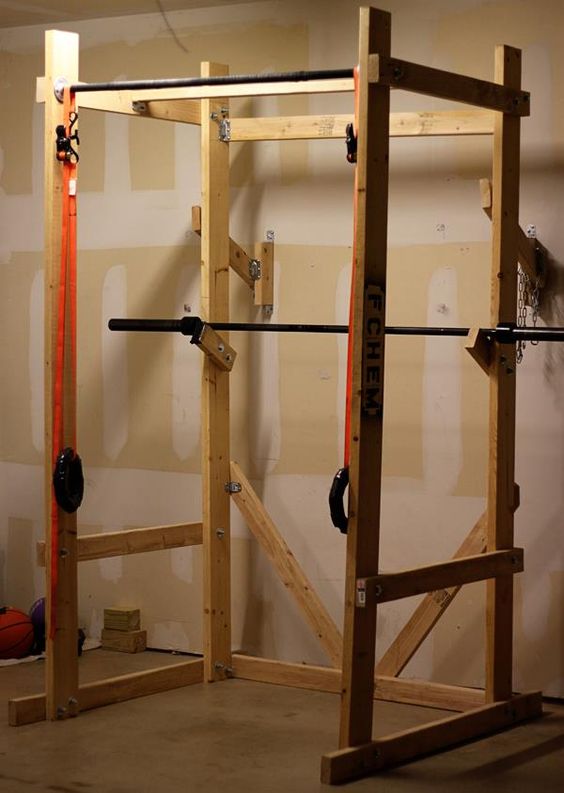 It will cost you less than $100 and can be built in a day.
Building Your Own Power Rack At Home
You will use wood to create a power cage from scratch. Though there are guys who use other materials to build racks at home but they are experts. If you are new to this stuff, it is strongly recommended to build a wooden power cage.
Don't worry, it is as strong as a metal rack.
Before you proceed, here are the things that you need to buy:
2 x 6'
2 x 4'
A 43'' pipe
6'' bolts with washers
Flanges
Screws
A box of wood screws (3.5'')
Flat bracket
Pencil
Let's begin.
Step 1
Cut your 2 x 4' to make the upper support beam and the safety bar. Depending on how high and low you want your power rack to be, you can adjust the height of the beam and safety bar. A good idea is to cut them at 44''. This will give you a lot of room.
Now use bolts at the each end. It is a recommended to use two bolts at each end for enhanced strength.
Step 2
It is time to cut the bottom support beam. Again, depending on the space and height, you can choose the right length. A good idea is to cut it at 55''. Use two bolts at each end.
Step 3
Now is the time to place flanges. But before you do so, put your frame up (as your basic frame is built now) and see where exactly you want to place flanges. Once your frame is upright, determine the position of the flanges and place them. First secure at one side of the frame, then on the pipe and then on the other side of the frame.
Step 4
Put the frames together since you now have to add back support beam. If you have used the dimensions in this guide, you should cut anywhere between the 56'' support beam.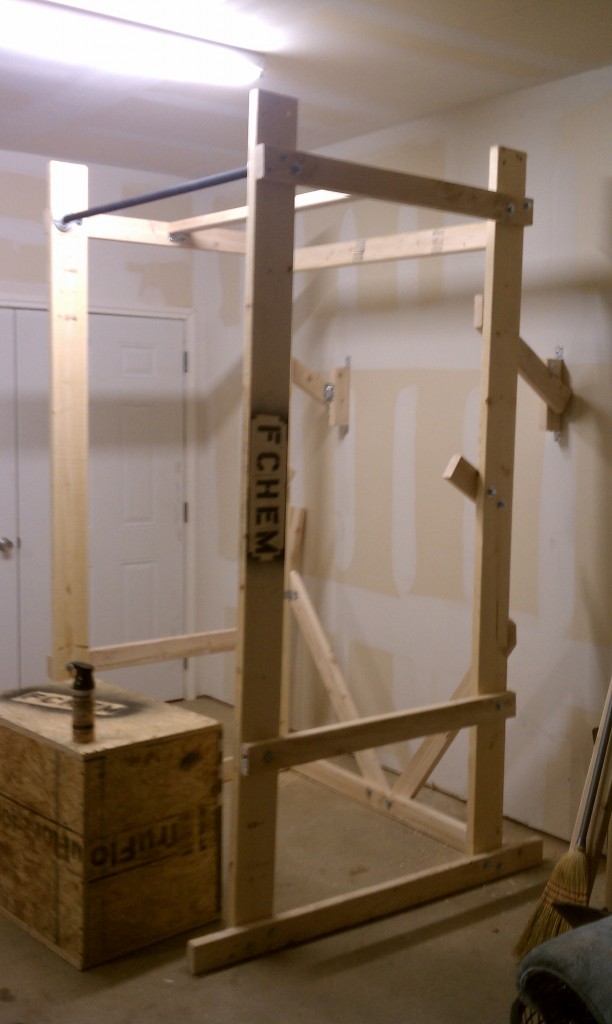 Step 5
By now, your basic frame is ready. It is time to make it strong by adding more support.
You can add two top support beams. One at the top exactly like the bottom support beam and the other at the top connecting frame from inside.
You can also add braces at the back support beam to give extra strength to the frame.
Here we go, your homemade power rack is ready. You are free to use it as per need. You can upgrade it when needed and you can add more features. It all depends on your needs.