We cannot always save our toenails from nail fungus. Sometimes going to the beach or wearing sandals are reasons enough to develop toenail fungus. The causes may vary, but the outcome doesn't.
As soon moisture gets trapped under the toenail, the breeding ground for the fungus begins to grow. And this just keeps getting worse if not treated. So the first thing that comes to mind when we think about treatment is the laser toenail fungus removal cost.
But you should know that there are other options you can try before opting for the laser treatment. These include topical creams and ointments, prescription meds, and homemade natural remedies. When all of these fail to do the job, which usually happens when the condition gets out of hand, then laser fungus removal is your last best option.
You might think that it is also the costlier one. And that's the thing, not many of us know how much a laser toenail fungus removal costs. So it's time to find out the correct answer this time. But before we do that, let's talk about some important aspects related to the cost of the treatment.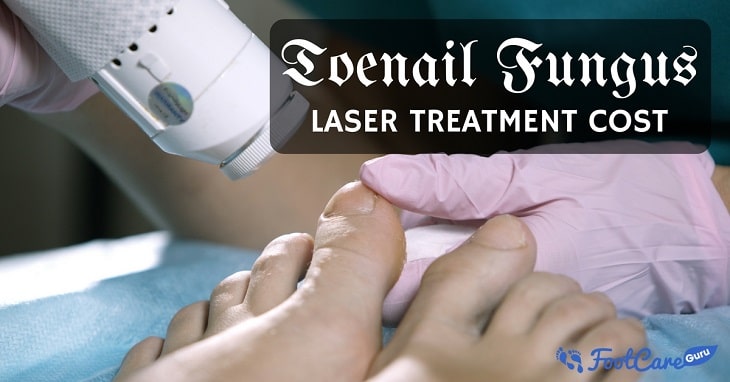 How Effective is the Laser Toenail Fungus Removal Method?
Does the method of laser toenail fungus removal work? Yes of course it does. The treatment is considered to be the most effective when it comes to eliminating the infection accompanied by fungus. And it does so by using light waves, which do an excellent job at killing the infection along with minimizing the fungus' destructive nature.
The use of new technological methods has now become a part of health issues, right? So the treatment of toenail fungus falls under that category. It is no more just the usual cosmetic issue. Toenail fungus has evolved to become a medical issue since the condition can spread and cause many severe complications.
The only problem with the laser toenail fungus removal treatment is that it's a relatively fresh and new procedure. So the results of its effectiveness are slightly inconclusive. On top of that, there are several different causes of toenail fungus. And this too plays a significant role in providing intermediate results.
The Doctors on Laser Toenail Fungus Removal
How does The Laser Toenail Fungus Removal Treatment Work?
Before we discuss the laser toenail fungus removal cost, let's find out how the procedure is performed. The podiatrist uses a laser to shine its light waves on the fungus directly. This particular process is not painful at all, unlike what some people might think.
The laser is not a magical potion, which means it's not going to make the fungus disappear instantly. Instead, what it does is kill the fungal infection. This prevents the condition from spreading further.
After the treatment, all you have to do is wait for the growth of healthy nails. During this process, the fungus tends to wither and reach the tip of your toenail. Once this happens, feel free to clip the nail away using a nail trimmer. So what's left is a fungus-free, healthy toenail.
Dr. Katz Performs Revolutionary Laser Toenail Fungus Removal in Tampa with a CoolTouch Laser
What does the Laser Toenail Fungus Removal Cost?
When it comes to laser treatment, there are many options that you can choose from. You will be glad to know that you get the chance to use a laser device to treat the condition yourself at home safely.
But if you wish to get the job done by a podiatrist, you get the opportunity to pick from two different laser treatment methods. After weighing the pros against the cons of both of these treatments, you can decide what works best for you.
The thing about toenail fungus is that it tends to cause swelling and pain if not treated properly. The condition can get out of control and develop a strong foul odor as well. This means putting your best foot forward, quite literally, to consult a podiatrist, dermatologist, and general practitioner.
Surgical procedures for toenail-fungus removal cost as much as $1,000 per session. And the number of sessions depends on how severe your condition is.
Is laser treatment method for nail fungus covered by insurance? Insurance companies don't consider fungal infections of toenails to be a medical issue. So not many of them offer insurance to treat this particular condition.
This is the reason why people opt for laser toenail fungus removal treatment after exhausting all the other options. And why wouldn't they when you have to shell out $1,000 for every session!
>>> Read more about ingrown toenail surgery cost
That's About It!
Laser treatment method for nail fungus removal is an effective and safe procedure. But at the same time, it's also an expensive one. The good thing about this is that now you know how much it costs. So you don't need to rely on guesswork anymore.
You either opt for the treatment, or you don't. But we would advise you to consult a podiatrist if the condition is causing severe pain and swelling.
We hope the article helped in answering all your questions about the cost of the treatment. If we've failed to add any other important point related to it, then please feel free to share it with us here.
Have you ever gone through the trouble of dealing with toenail fungus? And how did you get rid of the condition?
You can leave your feedback in the comments section below.
Sources:
1. https://www.yellowtoenailscured.com/cost-of-laser-treatment-for-toenail-fungus/
2. https://asafoot.com/toenail-fungus-laser-treatment/
3. http://www.afaasonline.com/laser-treatment-for-toenail-fungus.html